Competing in the sport of CrossFit® is tough and all-consuming. But in addition to the rigors of the sport, many top functional fitness athletes are also busy mums. These super-mums of the sport might make us mere mortal mums feel a tad inadequate, but no one would doubt how awe-inspiring and dedicated they are. Here's a look at seven notable CrossFitting 'supermoms' and their thoughts on motherhood.
Denae Brown
In 2012 Aussie Denae Brown qualified for the CrossFit Games after finishing third in the Australia Regional. However, just before the Games she had to withdraw from competition because she discovered she was pregnant. Brown then took the 2013 season off to focus on being a mum, returning to competition in style last year with a first place finish in the Australia Regional and 17th place finish at the CrossFit Games.
On being a mum, Denae says: "It's important as a mum to invest time in yourself, just like you invest time in your partners and your child, because if you're not looking after yourself then you can't be a good mum."
Valerie Voboril
A full-time teacher and mum, 35-year-old Valerie Voboril has competed in every CrossFit Games since 2009, with the exception of 2011 due to the birth of her daughter. She placed third in the 2010 and 2013 Games.
In her recent training journal, Voboril says wanting to be the best drives her in most areas of her life, not just CrossFit®. "I want to be the best mom, the best wife, the best teacher and the best athlete. But how can you be the best at everything with only 24 hours in a day? I am still trying to figure it out. In the meantime, I am always trying to maximise my time," she said.

Amanda Schwartz
Schwartz started CrossFit® in 2009 shortly after having her son. Born and raised in Australia, she qualified for her first Regional competition in America 2011 and in 2012 finished fourth, only two points away from booking a Games berth. In 2013 injury forced her to withdraw from competition, but in 2014 she had a succcessful return to competition, qualifying for the Games through the South Central region.
In a recent interview published on the CrossFit Games site, Schwartz said her son puts everything into perspective. "Being a mom is the most important thing in the world, but you also don't have to lose who you are. He's (her son) always in my thoughts. I want to be the ultimate role model for him and make sure he has a strong mum to look up to."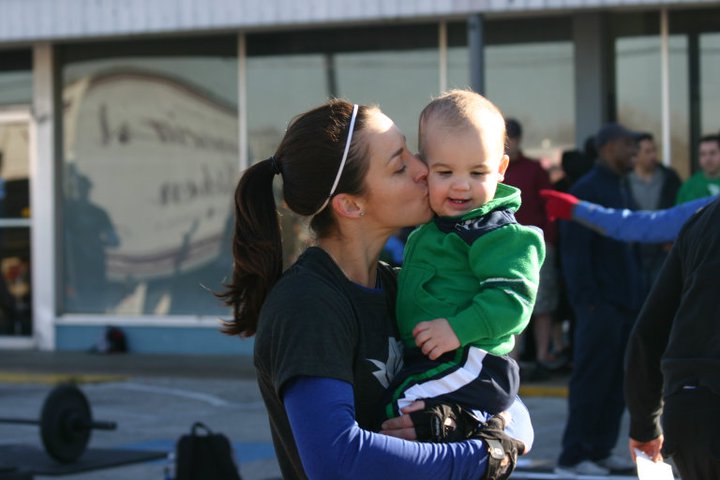 Elisabeth Akinwale
This powerhouse of the sport has appeared at four CrossFit Games and has won two consecutive North Central Regional crowns along the way. She also has three USA Weightlifting National qualifications.
Akinwale says she has made lifestyle choices to give her a flexible schedule and more time with her son. Reflecting on exercising during pregnancy and raising her boy, she said:
"Growing a beautiful life, bringing it forth into this world and nourishing it with your body – I don't care what gym you walk into or which athlete is there, you are the baddest mother in the place. One of the greatest things I have gained from my experience with pregnancy and fitness and now as the mother of a school aged child who trains as a competitive athlete, is to let go of the rigidity. It seems contradictory because training requires such consistency and discipline. However, fluidity and flexibility lead to balance."

Heather Bergeron
Heather Bergeron finished eighth in the 2010 CrossFit Games and is the co-owner (with husband Ben) of CrossFit New England. She also has three children. As a two-time individual and team competitor at the CrossFit Games, she knows what it takes to juggle a family and full time training. But as Bergeron states, nothing means more to her than her famiy.
"One of the things I love the most about CrossFit is that it is something that my entire family can share together: husband, children, parents, grandparents. It makes staying fit and active, eating a clean diet, and supporting a full-blown community so much a part of our lives that we are all on this crazy cool journey together that can only land us a better life than we could ever have dreamt of before we found CrossFit."
Cheryl Brost
Cheryl Brost is a 43-year-old mother of two who takes on women half her age on a regular basis in functional fitness competitions. A three time CrossFit Games competitor, she finished 13th at the 2010 Reebok CrossFit Games, 7th in 2011, 15th 2012 and 2nd in the 40-44 Masters Division at the 2014 Games.
A busy working mom, Brost and her husband Troy own a business which helps her set her own training hours. Cheryl gets in her morning workouts once the kids have gone off to school and says she's happiest when spending time with her family, watching her kids play sports.
"I find joy in seeing what they're capable of doing and how they improve," she said in a recent interview.

Annie Sakamoto
Pocket rocket and legend of the sport Annie Sakamoto is co-owner and founder of CrossFit Santa Cruz Central and has competed in four CrossFit Regional and two CrossFit Games competitions. In 2011 she won the 'Spirit of the Games' Award. She has two young children and stresses the importance of play time along with her regular training.
"Managing time is what allows me to do what I want to do, do what I need to do and everything else that comes with it. Managing time also means making sure I'm resting enough, eating right, sleeping right and getting enough play time – not just CrossFit, going to the beach and going on a paddle, for example. I think it's imperative for me in all aspects of my life. I have two kids, one that is 5 ½ and one that is 3 ½. I have a wonderful babysitter/nanny Coral, who is so awesome with my kids. I couldn't do it without her," she said in a recent interview.
What other CrossFit Supermoms can you think of? Let us know in the comment section below: