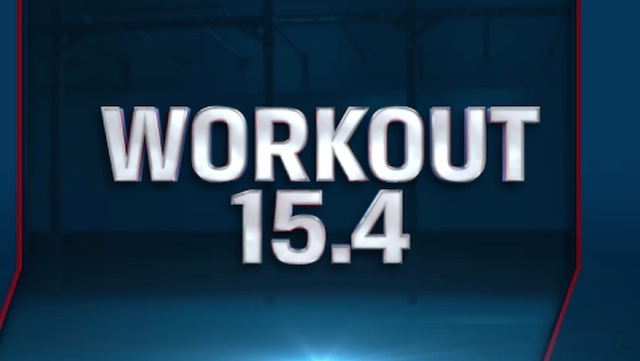 For the first time ever in the CrossFit Games Open, handstand push-ups were included into the programming during the fourth week of the 2015 Open, much to the prayers of a number of gymnastic based athletes.
15.4 was an eight minute AMRAP of an ascending couplet ladder of handstand push-ups and cleans (185/125 lbs).
Athletes required a good motor and shoulder stability for a big score. At the end of the four days, the top scores in the world were Jacob Anderson's 183 (video embedded below) and Kristin King's 180 reps.
Anderson competed at the South East Regional in 2014 and placed 22nd and looks to have improved in 2015. He's currently in second place in the South East Region with just one finish outside the top 50 so far.
King has previously competed at the North Central Regional; however she currently is 20 places outside of qualification for the 2015 Central Regional, and really needs results to go her way if she is any chance of making it through to the next stage of the CrossFit season as an individual.
In the women's division, Michele Letendre took second place with 167 reps (video embedded below), Sarabeth Phillips claimed third with 166 and Ragnhiour Sara Sigmundsdottir tied with Dani Horan with a score of 165. In 15.1, King, Letendre and Phillips all tied for 49th with 221 reps.
While Anderson took the men's half, Rich Froning was nine reps behind with a score of 174 with Mathew Fraser in third place with 172. Josh Bridges tied for fourth with Brett Lark with 167 reps completed.
The battle between Fraser and Froning for first place in the Open is getting hot with just one workout remaining and five points separating them. There is now a bit of a gap between the pair and Ben Smith in third place (42 points), so it's fair to assume it will come down to a two horse battle in 15.5 to determine who is crowned 'Open champion'.
Should Fraser take out the Open, it will be the first time in the history of the CrossFit Open that Froning doesn't win.
The women's leaderboard received a shake up with Camille Leblanc-Bazinet solidifying her spot at the top of the leaderboard.
A 50th place on 15.4 has seen Kara Webb drop to fifth overall, while Annie Thorisdottir is now second overall after scoring 165 reps in 15.4
2013 CrossFit Games champion Sam Briggs has continued her climb up the leaderboard with a 17th place on 15.4 and is now 117th overall.
Just one workout remains and thrusters and burpees are yet to make an appearance in the CrossFit Open this year. Will we see them in 15.4? Or will Dave Castro throw up yet another curve ball? We will find out in just a few days time.