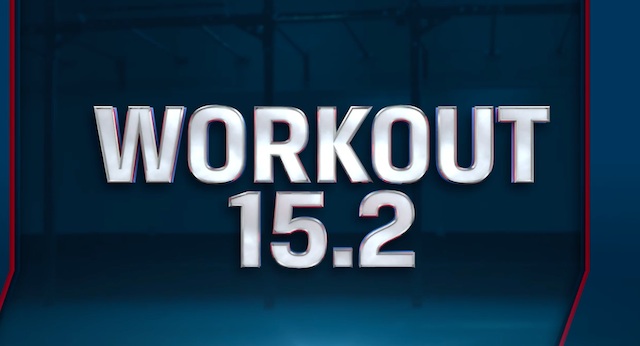 In 2014, just one person scored more than 400 reps on 14.2, the ascending ladder of overhead squats and pull-ups. The brutal couplet returned this year as 15.2 and four women and 10 men scored more than 400.
In 2014, Camille Leblanc-Bazinet posted the highest score in the world with 404, and this year that was smashed out of the park by 2013 Games competitor Natalie Newhart (formerly McLain), and Games veteran Josh Bridges who scored 441 and 435 respectively.
The couplet worked up in three-minute intervals and started at two rounds of 10 overhead squats and pull-ups with two reps added to each movement, each round. Newhard was just seven repetitions off entering the eighth three-minute interval and the round of 24s, while Bridges was 13 reps off.
Every year since 2012 CrossFit Games Director Dave Castro has thrown a repeat workout into the five-week CrossFit Open. Every year, the old top scores get smashed. That in itself has to be the biggest selling point of the sport, showing the world that athletes continue to improve thier fitness. Just when you think athletes are reaching their peak and can't get any fitter, they do.
Leblanc-Bazinet and Kara Webb were two of the standouts at the 2014 CrossFit Games and they've rounded out the top three for the women in week two of this year's Open with scores of 427 and 416 reps respectively. Fellow Games competitors Emily Bridgers, Annie Thorisdottir and Denae Brown also finished inside the top 10.
Ben Smith, who claimed third place at the CrossFit Games in 2013, took second in 15.2 with 433 reps and Dakota Rager finished in third with a score of 427. Rich Froning, Mathew Fraser and fellow CrossFit Games competitors Noah Ohlsen and James Hobart also scored more than 400 reps.
At the end of 15.2, the overall leaderboards have the 2014 fittest man (Froning) and woman (Leblanc-Bazinet) on earth in the lead.
In the women's half, Leblanc-Bazinet leads the way with one of the standout rookies at the 2014 Games, Bridgers, in second place. Webb is in third place, yet another impressive rookie from 2014, Lauren Fisher, is fourth and two-time Games competitor Thorisdottir in fifth.
After a less-than-ideal start to the CrossFit Open with an injury hindered performance, Samantha Briggs is climbing her way back up the leaderboard and sits in 252nd place worldwide.
For the men, the leaderboard almost resembles the 2014 CrossFit Games podium with Froning and Fraser in first and second, Smith in third, Jason Khalipa in fourth and Scott Panchik in fifth.
With three weeks and three workouts remaining plenty can change and all eyes are on Castro to see what he pulls out of the bag next.