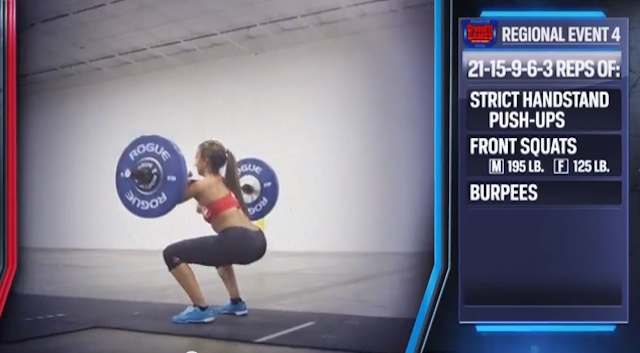 Day 2 Individual workouts for the 2014 CrossFit Regionals have now been released!
Unlike Day 1, which will include three Events, Day 2 will consist of just the two workouts.
Here is a closer look at Event 4 & 5 which will take place on Day 2 of the 2014 CrossFit Regionals:
Event 4: 21-15-9-6-3 reps for time of:
Strict Handstand Push-Ups
Front Squats, 195/125 lb.
Bar Facing Burpees
This workout has a 20-minute time cap and requires both men and women to complete the 21-15-9-6-3 rounds in their designated lanes. No kipping is allowed in the HSPUs. In the bar facing burpees, athletes must take off from both feet and land on both feet. One-footed jumping or stepping over is not permitted.
Event 5: 10 rounds for time of:
1 legless 14-foot rope ascent
200-foot sprint
Just like the 'Legless' workout at the 2013 CrossFit Games, Athletes will not be able to use their feet during the rope climbs. They will, however, be able to use their feet while descending from each climb. Jumping up to begin each ascent is allowed.
Full video demonstrations of the workouts have also been made public. You can check them out below, or read the full workout descriptions by clicking here.