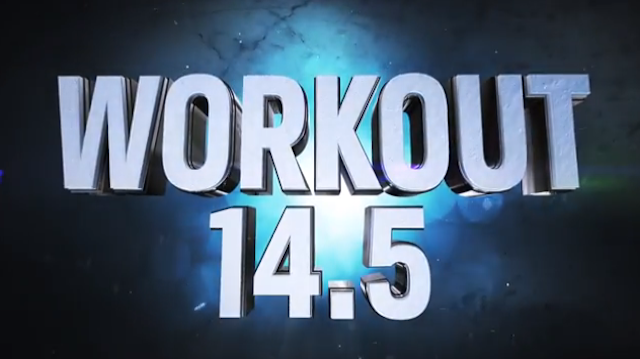 The fifth and final week of the 2014 CrossFit Open is now officially over with the online leaderbaords finalised for 14.5.
In the final week of the Open athletes were presented with a descending ladder of thrusters and barbell facing burpees in 14.5. For the first time ever in an Open we had a workout 'for time' instead of the usual AMRAP!
In the end it was Josh Bridges and Sam Briggs who topped the leaderboards, posting the best times in both male and female divisions.
For the third time this year, Briggs was the standout performer, completing the workout in a time of 8:31 during the live announcement throwdown in San Francisco on Thursday. Her time was seven seconds faster than her nearest female rival, Julie Foucher (8:38).
Rich Froning led the way in the men's half until Bridges made his submission on Sunday afternoon. His time of 7:49 was 37 seconds faster than the three-time Games champion and saw him finish the Open with a huge win, just as he did in 2013 and 2011.
In terms of the overall standings, Brigg's finished first in the female's Division, claiming her second straight Open victory. The reigning Games champion ended up on just 35 points, more than 100 more than second placed Camille Leblanc-Bazinet. Kaleena Ladeairous was third overall, Julie Foucher 14th, while two-time Games champion Annie Thorisdottir finished in 28th place overall after struggling in 14.5.
In the men's half, Froning claimed victory. He never finished outside of the top 10 worldwide in any of the Open workouts (fourth, second, eight, first, third), and accumulated just 18 points over five weeks. Jason Khalipa finished second on 71 points, while Ben Smith is third overall. It is the exact podium placing as the 2013 CrossFit Games.
Games veteran Tommy Hackenbruck finished 11th overall and has confirmed he will be completing as an individual this year, while fellow Hack's Pack UTE member Adrian Conway finished 40th and has also confirmed he'll be going individual in 2014.
Bridges victory in 14.5 saw him jump to 72nd place overall.
With the Open now over, our attention turns to the CrossFit Regional events which kick off on May 9, 2014.
Until then, here is a look at the 14.5 results and how the leaderboards stand at the end of the 2014 CrossFit Open: