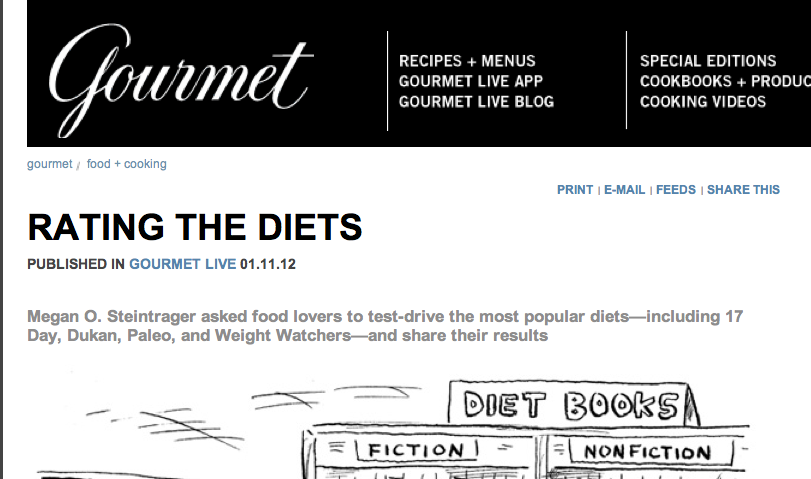 Diet, diet on the wall who's the fairest of them all? This is the question that was posed by Gourmet.com one of Conde Nast's very popular food and cooking magazines.
Gourmet.com in association with Epicurious and Gourmet Live editors just posted a review of the four most popular diets of last year. The editors along with some selected "food lovers" were asked to try and review four diets and give their thoughts on each. The diets that were chosen where the following: 17 Day Diet, Dukan Diet, Paleo Diet and Weight Watchers.
At the end of the review the final question posed: "Would you recommend this diet to a food-loving friend? Why or why not?"
Of the two on the 17 Day Diet one said, "Yes, but I would allow oneself to cheat a bit," while the other responded, "It would depend. Do you love food more than yourself? If so, then this isn't the diet for you."
Those on the Dukan Diet also had a mixed response. The first person answered, "Yes—I would if they were open to pushing themselves to cook and get creative with what they're eating. Otherwise, it's too easy to fall back on what's readily available cooked or pre-made at a grocery store or restaurant, which are foods that typically include a high amount of carbs." While the other respondent clearly stated, "No, I would not recommend this to a food-loving friend unless that friend already was primarily a meat, poultry, and seafood eater and eschewed vegetables, fruits, and grains."
All three individuals who had taken up the Paleo Diet said they would recommend the diet with two exceptions. First that "it's probably not for everyone," and a second "provided that food-loving friend also loved steak."
Of the final three who were on the Weight Watchers diet all of them said they would have no hesitation in recommending the diet to a "food-loving friend."
Although the review provided no clear winner or final recommendation it is an interesting read nontheless. You can check out more of Gourmet.com battle of the diets here.