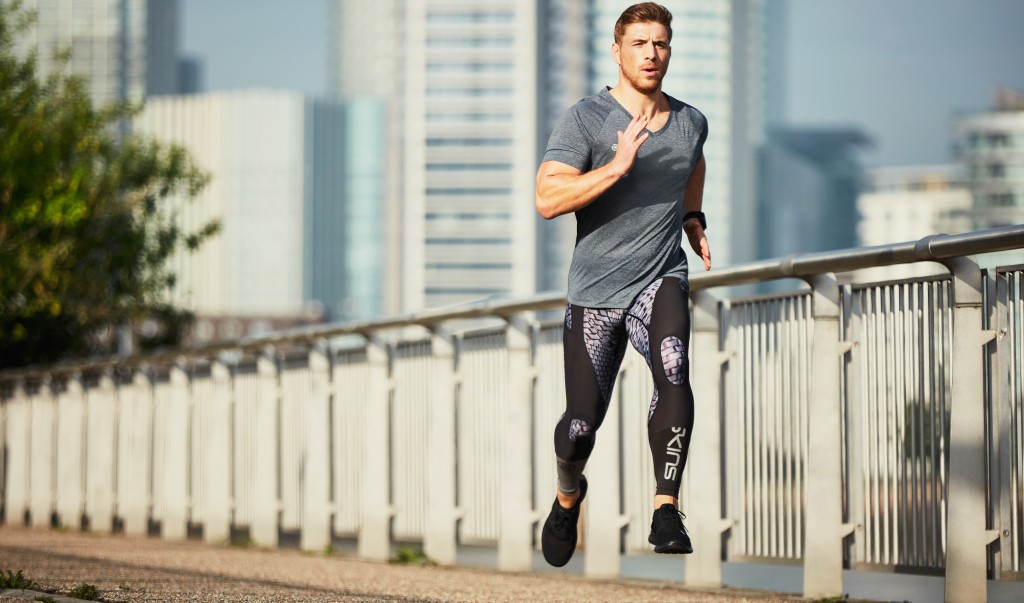 Whether you're a gym fanatic or fitness beginner, any guy can improve his overall performance with the right set of men's gym clothes. By feeling comfortable – or even just confident – in your men's activewear styles, it'll have a positive impact on your mental health, heightening your motivation to achieve your daily exercise goals. Amongst today's hottest gym gear, meggings are a gym-wear trend that's skyrocketed in popularity, even more so since the pandemic has pushed men's athleisure sales. But why are mens workout leggings so popular? If you've still never tried on a pair of mens compression pants, we broke down the details so you can judge if these body-fit tights are right for you. 
What are meggings?
If you've seen the word "meggings" thrown around, it's simply another term for "mens workout leggings". Usually made in ultra-stretchy, sweat-wicking materials, mens fashion leggings have skinny-fit legs that should fit tight like a second skin on your body, hugging the leg from the waist to the ankle. 
They're available in almost every style you can imagine from designer logos to animal prints to faux leather. You can usually find mens workout leggings online at any men's trendy clothing store like Differio that offers fashion-forward gym clothes for men. 
Why are men's leggings good for the gym?
Designed for men of all fitness levels, mens leggings are known for having a boatload of benefits for aiding movement, even speeding up recovery time. Meggings can be worn for almost every kind of activity (indoor and outdoor), including running, cycling, HIIT and weightlifting, making them one of the most multi-purpose gym pants.
Here are some benefits of wearing athletic tights for men:
Reduces muscle soreness
Fatigue and muscle soreness are some of the normal side effects you feel after working out intensely. While it's a surefire sign that your muscles are developing, overworked body parts can also prevent you from reaching those gains. Since mens workout leggings fit so tight (yet comfortable), this body-fit style can reduce pain-causing inflammation by applying slight pressure that drains any excess fluids. As you would with any physical activity or fitness gear, you should consult your physician if you have any major health concerns. 
Enhances flexibility
What you wear to the gym needs to be practical for that specific activity. If you're not wearing the right fitness apparel, it not only stunts your performance, but also leads to irreversible injuries. Meggings are just one of those workout pants that can be worn for almost any activity, from sprinting to rowing, largely because they're incredibly stretchy, essentially covering all your workout needs. 
Improves blood circulation
Compression tights also support and improve blood circulation due to its tight design. When your veins decrease in diameter, this causes blood to run faster throughout the body, which also spreads oxygen and nutrients faster. As a result, sore muscles will repair quicker, reducing recovery time. 
What's the best way to style fashion leggings for men?
If you're into the megging trend but feeling totally confused with style, it's really easy to learn, and you'll most likely have these items in your closet already.
Of all styling tips for mens leggings, the most important factor to consider is really finding the right clothes for the activity you're doing, instead of choosing trendy gym t-shirts and workout tank tops for the aesthetic. If you're doing a low-intensity workout (yoga, kayaking, power walking, etc.), you can wear t-shirts or tanks that are longer and wider in dimension. For HIIT workouts, it's best to go with gym tees and tanks in a tighter fit so that excess fabric doesn't impede with movement. 
Worried about feeling too exposed? You can always layer gym shorts (in any length) over your mens leggings for extra coverage. Once you get comfortable enough, feel free to wear workout leggings for men like normal workout pants. Like any other fashion trend, it's really up to you to style it whatever way makes you feel most comfortable.