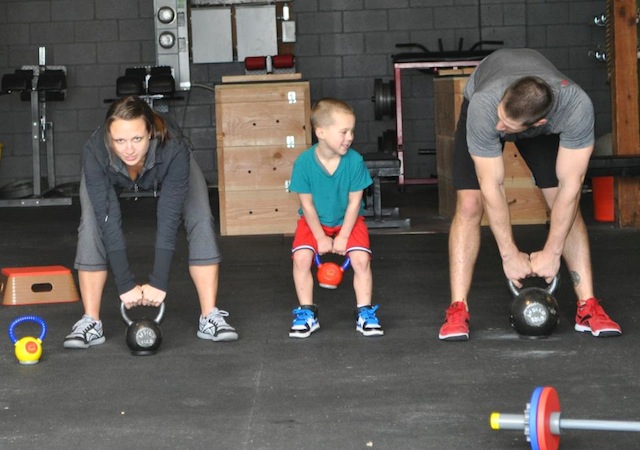 Just over a month ago I wrote an article about WOD Toys, a small Seattle based toy manufacturer that launched a line of CrossFit inspired childrens toys for ages three and up. From kettlebells, wall balls, plyo boxes, mini barbell, WOD Toys have replicated many of the traditional pieces of equipment used in CrossFit box or garage gym.
When asked why he decided to create the line of childrens toys, Ernest Haekel Ebio, the CEO of WOD Toys LLC stated, "the concept behind the production is to have children use the toys for fun with the family, especially during parents' exercise time where they can playfully participate."
As I mentioned in my earlier piece, I can remember asking my mother for the new Hulk Hogan weightlifting set, oh so many years ago. As silly as a gift it may have been at the time it truly became one of my most prized possessions. Till this day I can still remember carrying around my yellow dumbbells and pretending to work out. Whether it had anything to do with the Hulk Hogan weightlifting set or not, one thing is certain is that early exposure to fitness has stayed ingrained in me some twenty years later.
With the global obesity epidemic taking hold anything that can help children stay fit and active is nothing but a positive in my books. Which is why I am so excited to announce that WOD Toys have given us four "kettle kids" kettlebells, valued at $29.99 to giveaway.
For your chance to win all you need to do is "tell us why you like WOD Toys?" You can submit your answer in the comments section below or on our Facebook Page where we will also post the question. We will then choose the best two answers from our website and our Facebook Page. Each competition will run independently of each other so if you leave a comment below make sure you post it on Facebook and vice versa. And just in case we did not give you enough chances to win you can also submit as many answers as you like to the question!
Unfortunately the competition is only open to those inside the United States. Entries close Sunday 6pm Pacific Time, 13 May 2012.
To find out more about there products you can watch the video below or find them at WODToys.com
Good luck and remember we always like creative answer.