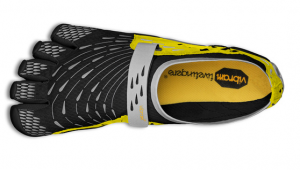 Vibram are at it again. The five-finger shoe company just announced next year's barefoot line-up. There are a variety of new models that will be released into the wild in the spring of 2012 but the most interesting of them all is the Vibram Seeya.
From all appearances the Seeya is Vibram's lightest and most flexible shoe to date. The reduction in rubber and material increases the shoes elasticity and seems to be a real attempt by Vibram at creating the most minimalistic shoe possible.
The official word from Vibram on the Seeya states:
"The ultra-streamlined Seeya is our newest performance option for serious minimalist runners. Designed to bring you even closer to the barefoot sensation, we've radically reduced overall weight and material with a more breathable mesh upper to deliver true, performance-driven footwear. Minimum rubber thickness in the outsole maximizes "foot feel" and flexibility, while a soft midsole further reduces thickness and weight for natural movement. A stitched-in insole protects skin and foot tissue during longer runs. For a snug fit, the lightweight, stretch mesh upper has a seamless collar and adjustable hook-and-loop closure."
As expected, the shoe is targeted at both the fitness and running communities. Based on this first look the Seeya appears to have a low heal to toe profile. This means that it may just be the perfect shoe for any WOD that incorporates a run with an o-lifting component.

It's early days yet and without actually trying the Seeya on for myself it is hard to know for certain if it will find a home in the CrossFit community. Yet based on this first glance the Seeya has this CrossFitter and many other in the blogosphere interested.
You can get a better indication of the 2012 Vibram Seeya video below. Seeya later!