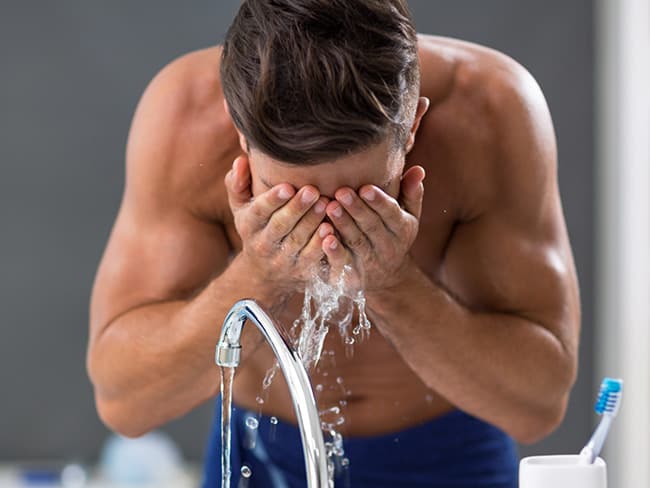 Wrinkles develop as a normal part of the aging process. As you age, your body starts producing less collagen and elastin (nutrients responsible for the elasticity of your skin). This leads to the appearance of the first wrinkles.
There are many other factors that accelerate skin aging:
Active facial expressions. Excessively using the muscles when you squint, smile or frown can cause mimic wrinkles around the eyes and mouth and forehead lines. Over time, these wrinkles can become deep.
Improper facial cleaning. Our skin needs regular cleansing, nourishing, and hydration. If you don't follow these rules or use the wrong skin care products, it may lead to premature aging.
Tanning. Frequent sun exposure is bad for your skin: UV rays destroy collagen and elastin and cause moisture deprivation.
Thin and dry skin. Women with this type of skin may develop wrinkles at 25 or even earlier.
Associated factors
Below are the factors that make wrinkles appear more pronounced:
Incorrect lifestyle. Smoking, stress, lack of sleep — all this reduces the elasticity of the skin and causes wrinkles.
Diet. When you're on diet, your body doesn't get enough nutrients, so it starts to take them out of the subcutaneous tissue, thereby reducing the production of collagen and elastin.
Climate influence. Sudden changes in temperature, sunlight, and moisture negatively affect the condition of our skin.
Internal diseases. Saggy skin can indicate liver, kidney, lung, or endocrine disorders.
Skincare tips for women above 40
There are many ways to slow down the aging process and make your skin look younger and more attractive. Why pay for the expensive beauty treatments when you can try gentle and targeted skincare line products? In addition to giving up bad habits, fixing your diet, and increasing physical activity, the beauticians give the following recommendations:
use anti-aging creams every morning and evening to keep your skin hydrated;
drink enough water to keep your internal organs and systems healthy;
buy only high-quality anti-aging creams, as such products are rich in vitamins, collagen, retinol, hyaluronic acid, and other useful substances;
wash your face with boiled water (and once a week — with sparkling mineral water);
rub the ice cubes on your face to improve your face color (if you don't have any contraindications to it);
avoid exposure to sun rays and use an SPF cream;
use only the high-quality beauty products with SPF;
visit professional beauty salons to do a facial cleansing.
Use collagen to fight skin aging
There is no panacea for youthful skin. There are many products that can make your skin more attractive. One of them is collagen. Protein synthesized in the human body plays a very important role in maintaining a youthful appearance. To achieve the best results, you need to not only boost your body's natural collagen but also learn to get this nutrient from food and cosmetic products.
One way to fix collagen deficiency is to use a collagen retinol cream. According to the cosmetics companies, such products make your skin toned and hydrated, reduce deep wrinkles and eliminate the small ones (all this in just a few weeks).
You will notice an amazing lifting effect after a month of using the collagen cream. Note that you can apply it not only to the face but also to the skin of your neck and neckline. Collagen cream is perfect for dry skin, as it contains shea butter, almond and castor oil, vitamins A and E, hyaluronic acid, elastin, urea, and glycerin. This product makes your skin firm and elastic, tightens it, and reduces wrinkles. 
Collagen cream with hyaluronic acid effectively fights wrinkles and dark spots. Vitamin E renews the cells and helps skin retain moisture, while vitamin C reduces melanin production and helps you get a more even skin tone.
Returning to the subject of skincare procedures: the sooner you start to take care of your skin and visit professional cosmetologists and the better skin care products you use, the more chances you have to maintain a youthful appearance. Millions of women around the world are actively fighting against the signs of aging and wrinkles. Some of them resort to plastic surgery, while others try to preserve their youth with the help of creams and serums. Actually, this method is quite effective, especially if you choose the right product. For example, collagen cream is a quite effective cosmetic product, which allows you to slow down aging and improve your skin's condition.