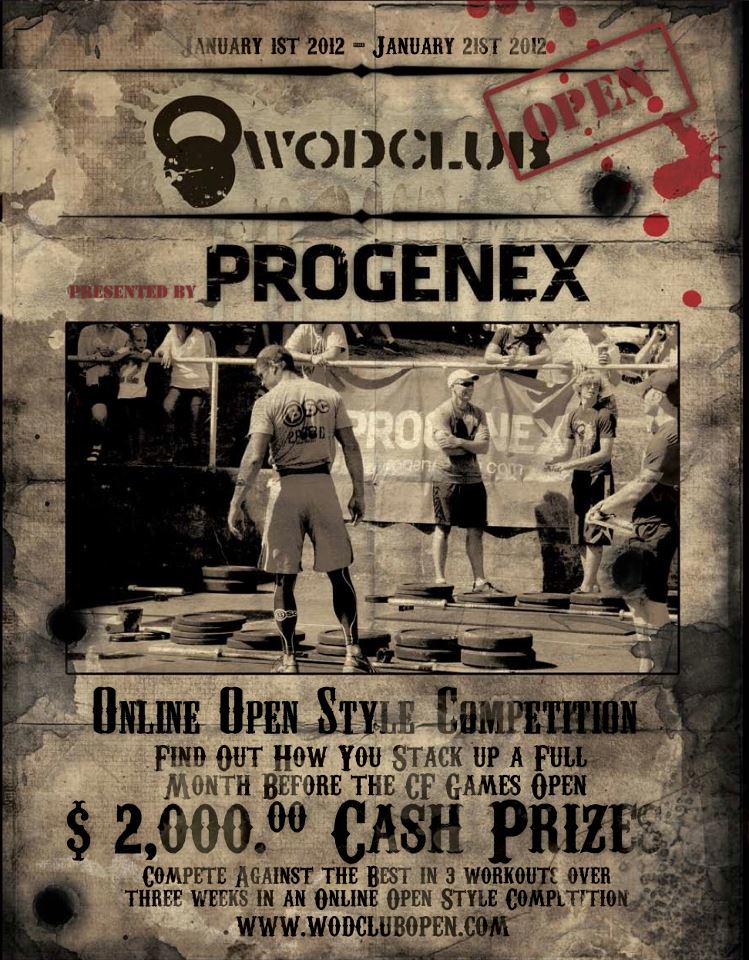 Are you a competitor yearning for the 2012 CrossFit Games Open to commence? Have you been waiting around all year for the next big competition? Want to test yourself against some of the fittest and finest CrossFit athletes on the planet? Do you want a chance to win over $2000 in cash and prizes for simply displaying your fitness prowess? Then I have good news for you, because starting January 1, 2012 the inaugural WODCLUB OPEN will commence!
What is the WODCLUB OPEN you may ask? To answer that question, I spoke with
Tommy Hackenbruck, the 2009 CrossFit Games runner-up and now WODCLUB OPEN competitor.
Tommy has been working hard behind the scenes to help promote this new event and as he puts it "the WOD CLUB OPEN is another way to compete for people all around the world. It's just like the CrossFit Open where there are all these local throw downs going on everywhere but… the CrossFit Games only happens once a year. So this is another way for people to be able to compete."
So how does it all work? The WOD CLUB OPEN is an online competition similar to the 2011 CrossFit Games Open. All you need is $10 dollars and a video cameral to film and submit your workout. The competition is split into four divisions: Mens, Women's, Mens Masters 40+ and Women's Masters of 40+.
Competitors will compete in three workouts over three weeks. Each Sunday starting January 1st 2012, to January 21st the workout will be announced, giving athletes till midnight the following Saturday US Pacific Time to submit their results (so a full week to do the workout). As mentioned all workouts must be filmed and then uploaded. It will then either be given the CrossFit standards tick of approval or it will be deemed "not-legit." At the end of three-week competition the winner of each division will be announced.
The event has already attracted over 400 competitors worldwide with names such as Josh Bridges, Lindsey Smith, Rich Froning Jr, Miranda Oldroyd and Tommy Hackenbruck all throwing their hat into the ring.
It is a great way to test yourself before the 2012 CrossFit Games Open. As Tommy states, "there are a lot of people that want to qualify for regional's that are right on the border and online workouts (and qualifiers like that) are much more different than the actual CrossFit competition. There is definitely some strategy involved and things you can do to do better. So it's really smart for people to take opportunities like this just to put themselves in that environment."
There are some that may be concerned that with so many big names getting involved it's going to be beyond their physical limits. However, Tommy does not think that is going to be the case and even thinks there will be very few who need to scale. As he notes, "For most of it, anyone that has been CrossFitting for even three or four months should have no problem in participating," meaning anyone and everyone should get involved!
There is something innate about competition that makes us all to strive for our best. So regardless if you're a potential Games competitor, weekend warrior or CrossFit novice this is a fantastic opportunity to get involved with the community and test yourself against some of the biggest and best names in the sport.
So if you have been missing your competitive fix, or want to test yourself out for the first time this may be a perfect opportunity. Heck, you may even surprise yourself and take home some of the cash and prizes.
If your interested there is still plenty of time to sign up but keep in mind registration closes January 7th. It's also important to note that although the fee is currently $10 (it is actually free for active service members) rumor has it that pricing may change. So my advice is get in early and get it quick. This may just be the perfect way to start off the New Year!
You can find more details at [WODCLUB OPEN here]