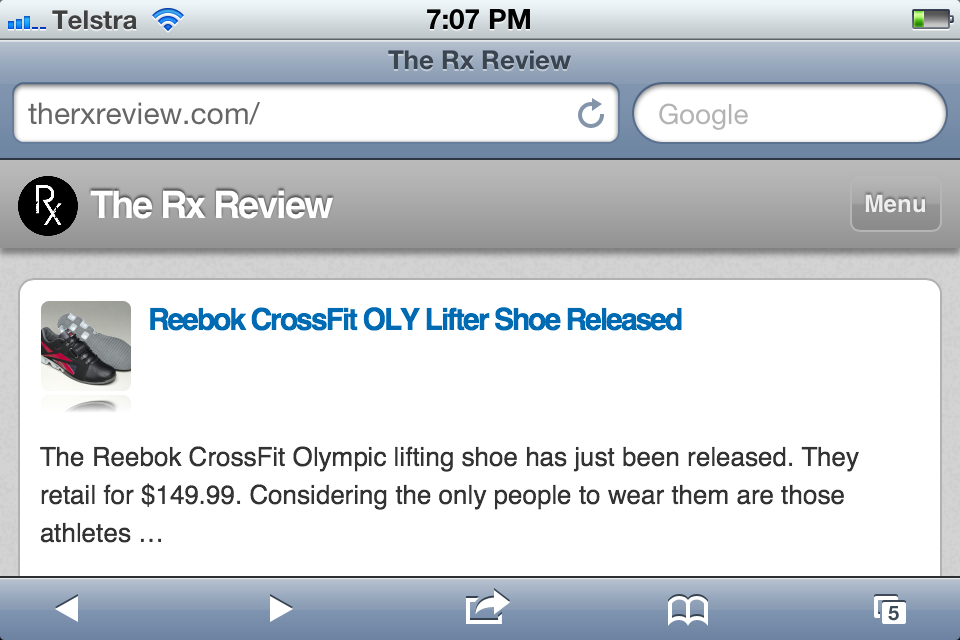 Hey Rx readers: remember to keep in mind The Rx Review has a fantastic and easy to read mobile platform. What does that mean in layman's terms? Basically, it means you can always read our latest and greatest articles on your mobile device.
We spent a great deal of time making sure we selected an application that was easy to navigate while still providing a clear and concise view of all our recent pieces. It also has an amazingly powerful Archive search function, making it easier to find any of our older articles if you're looking for something in particular.
Regardless if you use an iPhone, Android, Blackberry, Palm OS or Samsung touch device, The Rx Review's application works. In addition, it is completely independent of a desktop theme, which means it not only loads fast but is also just a click away.
So the next time you're bored sitting on a bus, train, plane (don't be like Alex Baldwin and do turn us off when told), waiting for the doctor or dentist and craving your CrossFit fix, remember… The Rx Review can keep you company on your mobile device.
Hey if you really want to show us your love and simply can't get enough of The Rx Review, an added bonus for iPhone users is that our web-app delivers a native application-like experience on all iOS devices. All you need to do is bookmark our site and we become available in standalone application on your desktop making us even easier to access!
Enjoy!