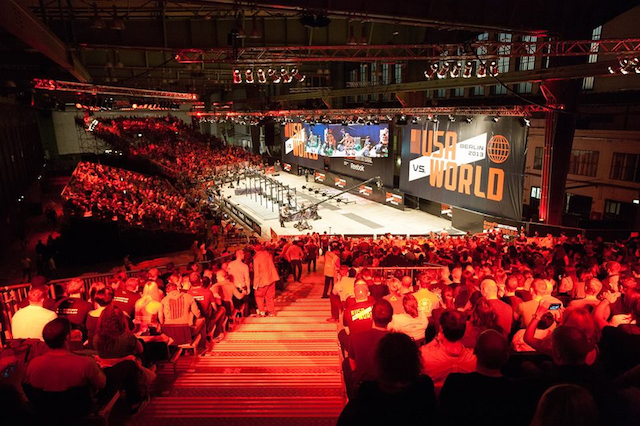 Well it was tough fought battle, but after five events Team World defeated Team USA 24 points to 19 in Berlin, Germany overnight to claim the 2013 CrossFit Invitational.
More than 2,000 fans packed out the Templehof Airport to watch the one-day competition.
Here is a short breakdown of each Event.
Event 1: Mixed-Pairs Jackie
Going into event one many expected Team USA to take this one out. Yet despite Rich Froning finishing first for the men, Team World's overall score was enough to secure the overall win.
The Score after Event 1: USA 10 World 11
Event 2/3: 15 Dumbbell Burpee Box-Overs, 30 Two Person Deadlifts, 30 Overhead Squats,15 Muscle Ups
After a short break the teams were back out again for Event 2. The women went through the workout first and much like the first Event, Team World got off to an early lead. Valerie Voboril seemed to struggle in the in the Dumbell Burpee Box-Overs falling several times as she attempted to walk over the box. That allowed Team World's women to open up a lead that the females from Team USA could not recover. Team World's women finished all four movements before Team USA, securing three more points.
Team USA's men were first to finish the Dumbbell Burpee Box-Overs and Two-Person Deadlifts. By the time Team World got to the Overhead Squats, Team USA had already completed 11 reps and Team World was just unable to catch up, giving the reigning champs the win.
The Score after Event 3: USA 13 World 14
Event 4: Max Clean
In this Event, each team was broken into three separate pairs to compete for 2, 3 and 4 points.
Team USA was the winner in this Event with the pair of Khalipa-Voboril beating Aegidius-Leblanc-Bazinet for 2 points, while Froning-Valenzuale dominated the Team World pair of Larouche-Briggs. Team World did get one victory, however, with Chad Mackay and Kara Webb grabbing 3 points, beating the pair of Smith-Fortunato. Webb's 235-lb. lift was the deciding factor.
The score after Event 4: USA 19 World 17
Event 5: Handstand Walks/Worm Thrusters/Weighted Lunges
Team USA started strongly, finishing the handstand walks first and beginning the worm thrusters well before Team World. But while Team USA decided to have a break after 10 reps, Team World went 20/20 unbroken and then hit the lunges with a healthy lead. Despite Rich Froning flying to the finish line, Val Voboril was lagging behind with Ben Smith, opening the door for Chad Mackay to lunge to victory for Team World!
Final score: Team World Wins – World 24 USA 19 
So with more than 2,000 fans watching on at the Templehof Airport in Berlin, it was Team World that upset Team USA in the 2013 CrossFit Invitational. The winner-takes-all final Event set up an epic finish and a great spectacle for CrossFit fans across the world.
To watch a replay of the 75-minute competition, you can check out the feed at the CrossFit Games website by clicking here.