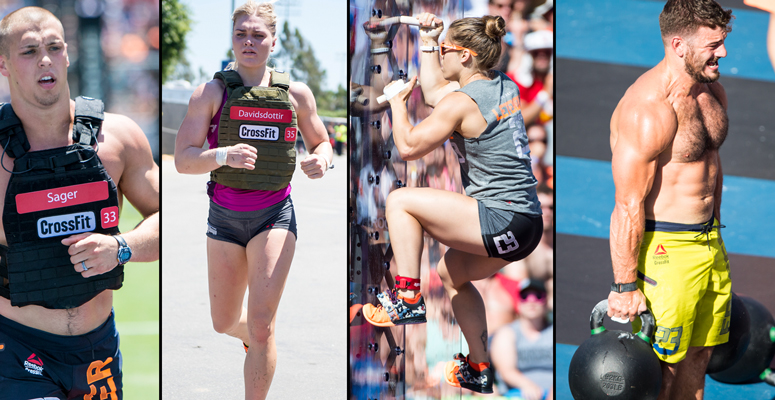 After its success last year, CrossFit's Team Series will be making a return this week with the online competition officially getting underway on September 8, 2015.
The series allows any two men and two women to form a team, which leads to some incredible rosters and the creation of many 'Superteams'.
While athletes don't have to train out of the same affiliate, as required for team members during the CrossFit Open, they will be required to complete all of the workouts together.
Here is a look at some of the big ticket teams competing in the 2015 CrossFit Team Series:
Jason Khalipa | Molly Vollmer | Jen Zambruno | Chris Detmering
Dan Bailey | Graham Holmberg | Camille L.B. | Annie Thorisdottir
CROSSFIT NEW ENGLAND – BUILT BY BERGERON
Katrin Davidsdottir | Michele Letendre | Cole Sager | Mat Fraser
http://instagram.com/p/6p0uDEBqmP/?taken-by=katrintanja
Nick Paladino | Ashleigh Wosny | Angelo Dicicco | Allison Weiss
Brooke Wells | Jared Stevens | Jordan Chiles | Mallory Lawson
Rich Froning | Josh Bridges | Sam Briggs | Margaux Alvarez
Travis Williams | Jordan Cook | Kari Pearce | Alexis Johnson
Kelley Jackson | Austin Malleolo | Jennifer Smith | James Hobart
Ben Smith | Paul Tremblay | Stacie Tovar | Emily Bridgers
CROSSFIT KINNICK – TEAM KINNICK
Jeremy Kinnick | Giermaine Kinnick | Jacqueline Houch | Nick Robles
Janet Black | Jeffrey Prejean | DJ Forsyth | Aida Koepplinger
Noah Ohlsen | Lindsey Valenzuela | Christy Adkins | Kenneth Leverich
Alec Smith | Cody Mooney | Christen Wagner | Caroline Dardini
Julianna Hasselbach | Alli Parks | Reid Howland | Hayden Jeans
Details
The CrossFit Team Series will be made up of two weeks of competition, with teams given six days to complete each week's workouts.
Registration began on Aug. 19 and signup can be found here. Here is a look at some other details of the 2015 CrossFit Team Series:
When
Week 1: September 9 – 15  (10am AEST)
Week 2: October 7 – 13 (10am AEST)
Register: August 19-September 9
Divisions
Open (all ages)
Teenage (14-17)
Masters (40+)
Cost
$80 per team
$500 for teams with sponsored team names
Prizemoney
1st – $30,000
2nd – $25,000
3rd – $20,000
4th – $17,000
5th – $14,000
6th – $11,000
7th – $10,000
8th – $9,000
9th – $8,000
10th – $7,000