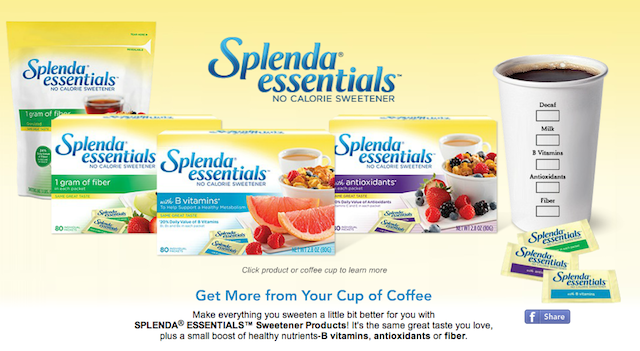 Three Californian residents have recently filed a class action lawsuit against Johnson & Johnson, the makers of Splenda and Splenda Essentials range of artificial sweeteners.
The defendants in the matter are, "seeking redress for…deceptive practices in misleading the health benefits of varieties of Defendants' fortified no-calorie sweeteners – Splenda Essential – in violation of California's consumer protection law."
Splenda Essentials is a higher price product line in the Splenda range of no-calorie artificial sweeteners that are fortified with B vitamins, antioxidants or fiber. The theory is that by using Splenda Essentials on your food, or in your beverage you can not only sweeten them in a low calorie way but avoid disease, lose weight or incur other health benefits.
As the advertising on their website states, "Make everything you sweeten a little bit better for you with Splenda Essentials Sweetener Product! It's the same great taste you love, plus a small boost of healthy nutrients-B vitamins, antioxidants or fiber."
There are numerous issues addressed by the plaintiffs in regards to the advertising representations made by Splenda Essentials. Although the key point is that consumers were deceived, "into believing that Splenda Essentials sweeteners provided health benefits by touting B vitamins, antioxidants, and fiber fortification in the their marketing practices."
The matter will be heard by the U.S. District Court in Northern California. It looks to be an interesting case as California is known to have some of the robust consumer protection law in the country.
You can read the full complaint here.