We have all heard wearing thongs can be bad for you. As the theory goes when you wear a pair of flip-flops or thongs (whatever you want to call them), you are forced to curl your toes to prevent them from flying off your foot. The problem is that alters the natural muscles in your feet from bringing your toes up after each step, and therefore leads to a kind of walking shuffle.
Additionally, there has also been some suggestion that people who wear flip-flops actually take shorter strides, meaning it takes them more steps to get from A to B. Combine this with the fact your biomechanics are altered in order to compensate for the lack of your natural gait and you are left placing more stress on the foot, consequently causing possible joint pain.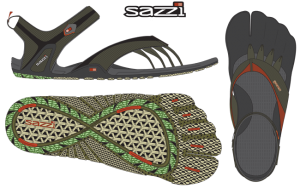 However one new innovative company appears to have a solution to this problem. The shoe/flip-flop called the Digit is part Vibram Five Finger, part Teva sandal and part thong.
The founder of Teva, Mark Thatcher is behind the new footwear company, Sazzi and despite their website stating they have no affiliation with TEVA it is hard not to see the connection.
Sazzi describes the Digit in the following way: "Digit" means "one" – in this case, it means a unique footwear platform that utilizes a single independent toe suspension footbed for maximum support balanced with maximum agility. Independent toe suspension is a key component of our Toe Motion Footwear™ system. That component, in combination with four toe posts (for all five toes) construction of the upper, provides superior lateral and forward leaning control for athletic utility. This is an ideal tool for an active person looking for the freedom and comfort that only this sandal can provide."
The shoe company actually has two products on the market: The Digit and Decimal. Although on appearances only the Digit with its ankle strap could possibly remedy any of the issues listed above.
I have yet to try either pair but after wearing my Vibram Five Fingers for a several years now, I'm interested to give them a go. I'm not sure how comfortable or practical they would be, but I do know wearing a pair will probably get you those all too familiar looks you receive when wearing a pair of Five Fingers.
There is no pricing on Sazzi's website as yet, so until that is disclosed it will be hard to gauge how well or if these will take off. Yet with the barefoot movement gaining more popularity every day the Digit and Decimal may soon find a home within the CrossFit community.
For more information you can check out [Sazzi's website here]
Alternatively if you get a pair let us know what you think in the comments below.
-Michael