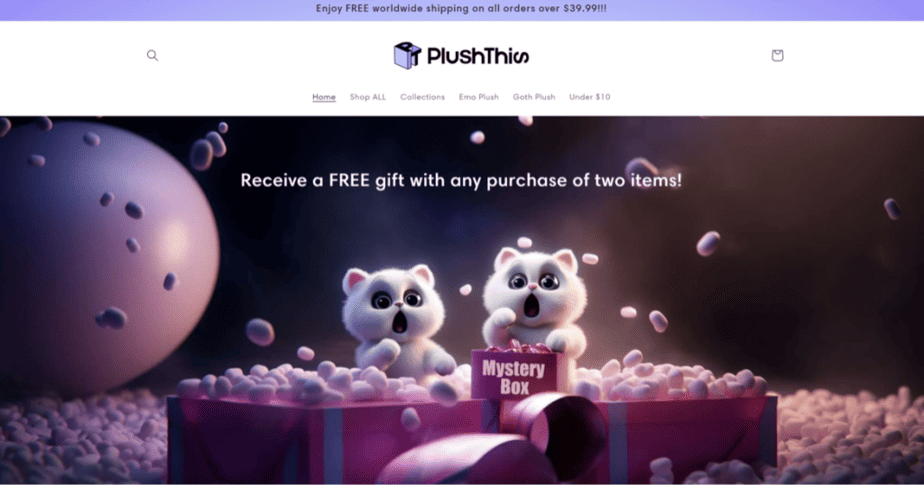 The writer is a huge fan of plush toys and has amassed a collection of thousands over the years. However, they were truly impressed by the unique and high-quality plush toys offered by PlushThis. The brand's designs are a blend of various subcultures, such as gothic bunny or street art cat, resulting in stunning and fascinating plush toys. PlushThis uses AI to create these plush toys, which are so amazing that the writer wants to collect all of them. PlushThis is a brand that deserves recognition and support for making plush toys more personalized and enjoyable.
In this article, we will explore PlushThis, including the brand's story, materials used, and inspiration behind unconventional designs.
About PlushThis
Brand Story
PlushThis is a brand that specializes in stuffed animals and was established during the AI boom era. It's the first plush toy brand online that utilizes AI tools to aid in the design process. The founders recognized that many toys available in the market are very alike and lack unique features. PlushThis aims to provide something different and unparalleled by offering options that cater to individual needs while promoting creativity and imagination.
Brand Promise
PlushThis is a brand that specializes in creating innovative and entertaining stuffed animals. Their goal is to surpass customer expectations by delivering delightful and distinctive products. PlushThis promises to deliver on these expectations by:
Delivering high-quality stuffed animals that are soft, durable, and safe. The products are made with premium materials and undergo strict quality control tests before shipping.
Providing fast and free shipping on all orders over $39.99. The customers can also enjoy easy returns and exchanges within 14 days of purchase.
Matching the AI product images on the website with the actual products the customers receive with 95% similarity.
Product Category Introduction
Here are some collections that are most popular and distinguish them from other stuffed animal brands.
The Most Distinctive Collection:Emo Plush toys
Unveiling one of their standout collections: the embrace of individuality through their captivating range of emo plushies. A bold step for those seeking to break away from the ordinary. Plushthis plush toys exudes diversity, showcasing traits ranging from the eerie to the spine-tingling, the spooky to the thrilling – a spectrum of emotions brought to life.
PlushThis Compare with Mysterious
Mysterious is outstanding in the field of emo plushies. But what if we compare it to PlushThis emo stuffed animals? What is the difference between these two brands?
Design
PlushThis Emo Plushies:
Various characters such as bear, bunny, fox, etc
Uses many colors such as black pink, white, and tiffany blue
Mysterious:
Mainly rabbits
Dark colors such as black, purple, red, etc
Product Diversity
PlushThis Emo Plushies:
Mainly based on plush toys, lacking other types of products
Uses various high-quality materials, such as embroidered lace fabric, knitted fabric, faux suede, and rabbit faux fur fabric
Mysterious:
Mainly based on plush toys, with a few other types of products such as crossbody bags and headbands
Mainly crafted with rabbit faux fur fabric, lacking diversity in other materials
Customer Guarantee
PlushThis Emo Plushies:
Enjoy free worldwide shipping on all orders over $39.99
Shipping takes approximately 7-15 days depending on your location
Enjoy easy returns and exchanges within 14 days of purchase
Mysterious:
Free shipping to most locations in the world on orders over $55 on select products
With 3 weeks being typical and some situations requiring 2~4+ weeks once shipped
Refunds or exchanges are available within 30 days from the delivery date
Price Range
PlushThis: $3.99~$59.99
Mysterious: $14.99~$75.00
Niche Subcategory:Goth Plush Collection
The goth plush collection is another collection that could showcase PlushThis stuffed animals' unparalleled uniqueness. If you are inclined to all kinds of strange and eerie objects, this is the right place for you to discover them.
If you're into gothic style, you've probably heard of Killstar. They have a great selection of stuffed animals with gothic twists. However, their products can start to look a bit similar after a while. If you're wanting to see something new, check out PlushThis' collection of gothic plush toys. Their use of unique fabrics like embroidered lace, knit, faux suede, and rabbit faux fur really make their plush toys stand out and feel one-of-a-kind.
Sophisticated Collection:Realistic Stuffed Animals
At present, PlushThis offers limited options and sizes for their realistic stuffed animals compared to Auswella. I remain optimistic that PlushThis will expand their product line in the future.
Comparison with Auswella
Design
PlushThis Realistic Stuffed Animals:
Lacking in life-like plushies
Auswella:
Focusing on realistic designs and life-like size
Product Category
PlushThis Realistic Stuffed Animals:
Only have a few products and mainly consisted of mainland animals
Auswella:
Detailed classification of categories, such as animated plush toys, birds butterflies bugs, continental animals, farm animals, etc
Price Range
PlushThis: $3.99~$59.99
Auswella: $4.80~$279.99
Unnoticed Collection: Cute Stuffed Animals
You may know PlushThis for their edgy products, but they also have a fantastic collection of adorable stuffed animals you might have missed. With over a hundred options in their range, there's something for everyone.
If you're looking for cute style, Jellycat is definitely worth checking out. They're well-known for their animal-themed toys and consistent design. However, if you prefer a unique Japanese-inspired and kawaii style, you should definitely consider PlushThis stuffed animals. The author highly recommends exploring their charming products and experiencing the joy they bring!
Overall Product Review
As we explore the range of Plushthis plush toys, it becomes apparent that each product boasts its own unique and appealing features. PlushThis truly sets itself apart from other brands with its standout collections of emo plush toys, goth plushies, and cute stuffed animals. The future of this brand is undoubtedly bright, and we can expect to see even more innovative and captivating stuffed animals that capture the attention of consumers and push the limits of plush toy design.
What Guarantees Their Production Capacity And Product Quality?
Design Process
The founder of PlushThis is also responsible for their product design, having graduated from RMIT University in Australia with a master's degree in media. She has expertise in digital design, AIGC, and digital marketing. She and her team use AI tools to generate and test various ideas until they find the best ones. They also oversee the design process to ensure the products are stylish and appealing. AI tools enable them to cut down the design cycle from weeks or months to days, improving their product innovation.
Quality And Production Capacity
PlushThis is a DTC(Direct To Customer) brand. Their manufacturer is Taihua Toys which is a world-class large-scale stuffed toy factory and a professional customized supplier of stuffed toys integrating production and development.
Taihua Toys is capable of producing stuffed animals with large capacities for several reasons. Some of these possible factors include:
Taihua uses advanced equipment like computerized sewing, embroidery, stuffing, and cutting machines to create precise and consistent stuffed animals.
The factory possesses a skilled and experienced workforce in handling the production and quality control of stuffed animals.
The stuffed animal factory has a dependable supply chain for materials and packaging. They use top-quality fabrics, fillings, eyes, noses, and labels from trusted suppliers.
The factory utilize software tools to streamline operations for scheduling production that can efficiently manage the production process and cater to market demand.
Their factory has always been a experienced OEM and ODM factory for various globally renowned brands and licensed characters, including: Winter Olympics mascot Bing Dun Dun, LEGO, Harrods, Victoria's Secret, Coach and other international brands.
What are Consumers Saying About PlushThis?
The rating of their products mainly remains around 4.5 and most people hold a positive attitude towards them.
FAQS
How To Contact PlushThis?
If you have any questions or need any assistance, please send an email at help@plushthis.com. They are also very active on various social media platforms such as Facebook, Instagram, and Pinterest. You are welcome to follow their accounts.
Where To Buy PlushThis Stuffed Animals?
At present, you can only purchase their plush toys on the official website – plushthis.com. We hope that they can have diversified distribution channels in the future and pass on these warm companionships to more people.
Does PlushThis Have Coupons?
Yes, they do have coupons for everyone who has an interest in buying their stuffed animals. If you are expecting more, please follow their official social media accounts and pay attention to their promotional activities on the official website. Here is a coupon code, BPTLMNDR3, which can give you 10% off.
Comprehensive Assessment
PlushThis's toy designs are truly exceptional, thanks to their unique blend of imaginative ideas and constantly evolving AI tools. As a result, they stand out from traditional brands and show great promise for future growth and improvement. With time, PlushThis is sure to become a fully established and best stuffed animal brand that continues to captivate and inspire.