Since its inception in 2010, the OC Throwdown has been one of Southern California's biggest competitive CrossFit events. Held in Orange County, about 40 miles south of Los Angeles, what started as a regional event has become one of the top events for competitive CrossFit athletes worldwide.
Similar to qualifying for the CrossFit Regionals through the CrossFit Open workouts, competitors submitted scores and videos in the hope of qualifying for the Throwdown. The top 30 Men's and Women's qualifiers, in addition to a number of invited athletes and former event winners, will compete for the OC Throwdown title on January 11-12, 2014 at The Hangar in Costa Mesa, California.
Qualifier workouts
While scoring for the events is now closed, the qualifier workouts were as follows:
WOD 1 – AMRAP 14
10 hand-release bar-over burpees
15 hand-release deadlifts (165#/110#)
20 wallballs (10′ target for M and F)
WOD 2 – AMRAP 8
20 overhead squats (95/65)
20 pull-ups
20 overhead squats (135/95)
20 chest-to-bar pull-ups
20 overhead squats (165/135)
20 muscle-ups
Max overhead squats (185/115)
WOD 3 – AMRAP 4
8 thrusters (113/75)
8 toes-to-bar
WOD 4 – 3 Rounds for Time
4 ground-to-overhead (any way) (225/150)
6 back squat (275/185)
8 deficit handstand push-ups (8"/5")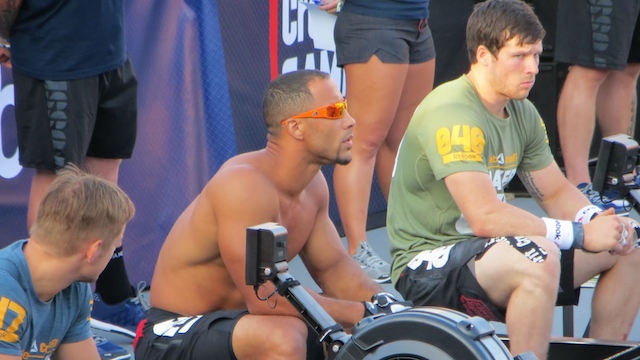 Invited athletes
The OC Throwdown gives CrossFit fans the opportunity to watch many of the sport's top athletes competing in a Games-like atmosphere.
More top athletes will be invited in the weeks leading up to the event, but the current list of invitees includes many top athletes from the CrossFit Games. It's likely that the growing list of invited athletes will continue to raise the level of competition for the event.
Men
CrossFit Games participants Josh Bridges, Zach Forrest, Tommy Hackenbruck, Marcus Hendren, and Neal Maddox are already among the elite names that have been invited to the event.
Last year's OC Throwdown Men's champion, Kenny Leverich, will be back to defend his title.
Women
Former CrossFit Games champion Kristan Clever, along with well-known Games competitors Camille Leblanc-Bazinet, Rebecca Voigt, Valerie Voboril, Katie Hogan, Talayna Fortunato, Christy Phillips, and Alessandra Pichelli are among the names that have been invited to compete.
Interestingly, Julie Foucher is also included on the list of invitees. It would be exciting to see the 2012 runner-up in action after not competing at this year's CrossFit Games.
Last year's OC Throwdown Women's champion and 2013 CrossFit Games runner-up, Lindsey Valenzuela, will also return to defend her title.

Qualifying athletes
This year's top 30 Men's and Women's qualifiers includes a number of well-known names and rising athletes to look out for in the upcoming Games season.
Men
CrossFit Bolt's Courtney Wuistinger, who finished first in the South Central region during the 2013 Open, but was forced to withdraw midway through Regionals due to an injury, was the top male qualifier this year.
Also among those qualifying for this year's event is Games athlete Jon Pera, who finished in 23rd at the 2012 CrossFit Games behind Games legend Chris Spealler. Orange Coast CrossFit's Ryan Fischer, who was famously no repped and reprimanded by Dave Castro at this year's SoCal Regionals also qualified for the event. Former Games competitor Jeremy Kinnick finished just outside of the top 30 qualifiers for the event.
Women
Lauren Fisher from CrossFit Invictus' Games team and sister of NorCal CrossFit's Games competitor Garret Fisher, was the top female qualifier for this year's event. With a first, second, and third place finish in three out of the four qualifiers, Fisher looks well-prepared to compete with Games-level athletes as an individual.
Other qualifiers include Master's champion Amanda Allen, SoCal Regional competitor Jamie Hagiya, and former Games third place finisher Nichole DeHart. One of CrossFit's more popular female athletes, Andrea Ager, finished just outside the top 30 qualifiers for the event.
Featuring many of the sport's top athletes competing head to head before next year's CrossFit Open, the 2014 OC Throwdown kicks off on January 11 next year.