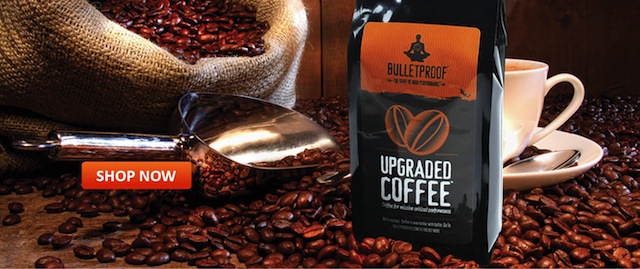 In a sport like CrossFit you learn there are commonalities that bind us all. Whether it's the strange looks we get when we mobilize or workout in a public place, the scars that run down our arms and shins, bruises or tears on our hands and shoulders, or the clothing and apparel we wear, it's not hard to spot a CrossFitter.
On my recent trip to LA I found it even easier pick out a CrossFitter. Pop into any Starbucks early in the morning and just listen to the person standing at the counter in their Vibram Five Fingers or Reebok Nano's ordering a black coffee in their box's shirt. It was then I came to another realisation, we CrossFitters love our coffee!
The good news is The Rx Review recently teamed up with OptimOZ, the Australian distributor of the now famous Bulletproof® Coffee.
For those of you who have not heard of Bulletproof® coffee they state:
Bulletproof® Upgraded™ Coffee is the result of an obsessive pursuit to engineer the absolute highest performance coffee beans on earth. It's taken more than 10 years to identify every step of performance-robbing toxin formation in coffee and to create a reliable, perfect source of beans that always makes you feel great – even though "normal" coffee gives people headaches, jitters, and crankiness. Bulletproof® Upgraded™ Coffee makes you feel noticeably better than any other coffee. You'll never go back to Starbucks again. These beans are meant for drinking black or best of all, for making Bulletproof Coffee with grass fed butter.
Bulletproof® Upgraded™ Coffee Is Not Just Coffee
(AND IT'S GOOD FOR YOU):
It is carefully produced and tested with our proprietary Low Mycotoxin™ process to target the lowest toxin content vs. normal coffee, so you get all the benefits of coffee without the negative health effects.

The beans are harvested from a family-owned estate in Central America at high altitude, where the best coffee grows.

The estate is Passive Organic and the family that owns it does not allow chemicals (herbicides, pesticides, etc.) It is not economical for Central American boutique coffee estates to become certified organic.

They are hand picked by experienced coffee harvesters – skilled people who know how to pick only perfectly ripe berries.

Most coffee beans are processed by either leaving them in the sun and elements to wither and spoil as they dry, or by pressing them and letting them ferment (spoil) to remove the outer layer of the bean. Both of these techniques are known to produce significant levels of mycotoxins as they enhance flavor. Bulletproof® Upgraded™ Coffee beans are processed right after picking using a process that avoids any chance of fermentation. This more expensive process is safer because it dramatically reduces harmful molds or bacteria from impacting your health.

The beans are roasted in small batches by the #1 ranked roaster in United States under the strictest conditions. Roasting the beans enhances their antioxidant capacity and flavor to provide you with a healthier, tastier cup of coffee.
As an obsessed coffee drinker myself I've tried their beans and have to say I love them. Yet the good thing is you don't have to take my word, or theirs, because this week we are giving 11 lucky readers the chance to win some!
So here is what we have on offer. We are giving 10 lucky readers a chance to win 1 of 10, 340 gram Upgraded Bulletproof® Coffee Beans worth $24.95. But here is the kicker! We also have a grand prize of 1 Bulletproof® Coffee Making Kit Valued at $220!
That amazing kit includes all of the following!
1X Aeropress Coffee & Espresso Maker

1X Porlex Mini Grinder

1X Able Stainless Steel Filter for Aeropress

2X Upgraded Coffee Beans (340g)

1X Upgraded MCT Oil

1X Klean Kanteen (Stainless Steel)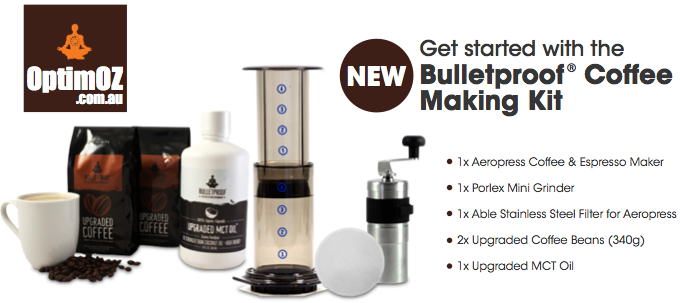 There are 6 ways you can enter this competition:
1. Simply tell us "Why you want to win a bag of Bulletproof® Coffee from OptimOZ?"
2. "Like" OptimOZ Australia on Facebook
3. Follow OptimOZ on Instagram
6. Like this article
If you answer the question, Like the article, and or Like/Follow OptimOZ Australia on Facebook, Twitter, Google+ or Instagram tell us in a separate comment below. That way you could end up with 6 entries into the draw!
Good Luck!
** UPDATE (19/08/13) – This Giveaway is now over. To find out if you were one of the lucky 11 winners, check out our Weekly CrossFit News Wrap Video by clicking here. We reveal all winners in the video!