It was only 6-months ago The Rx Review published a detailed review of the King Kong Apparel Bag version 2.0. At the time we said it was one of, if not the best gym bags for the functional fitness market, a statement that still holds true today. King Kong Apparel's attention to detail and use of quality materials has resulted in an exceptional line of bags that myself and many CrossFitters around the world use on daily basis.
King Kong Apparel first launched their range in 2011 and since then have continued to build a loyal customer base. I've literally taken their bags around the world, thrown them, dropped them, used them and abused them, and they have stood up to all this wear and tear! All these points are detailed in our review of the bag which can be found here.
So when their owner and founder, Stefan Gehrig contacted us about a new line of bags they were launching through a Kickstarter campaign, we were excited to check them out.
Gehrig and his team have come up with five new designs ranging from the 10-litre $80 Mercury to the 25-litre Rucksack at $115. Each of the new designs are listed below:
1. Mercury 10L – $80
With good reason this bag is named after the Messenger of the Gods, Mercury. Much more than a messenger bag yet minimalistic in design. It's a perfect hybrid between backpack and messenger bag, ideal for popping in necessities and being on your way. Post-Kickstarter MSRP $94.95. More info here.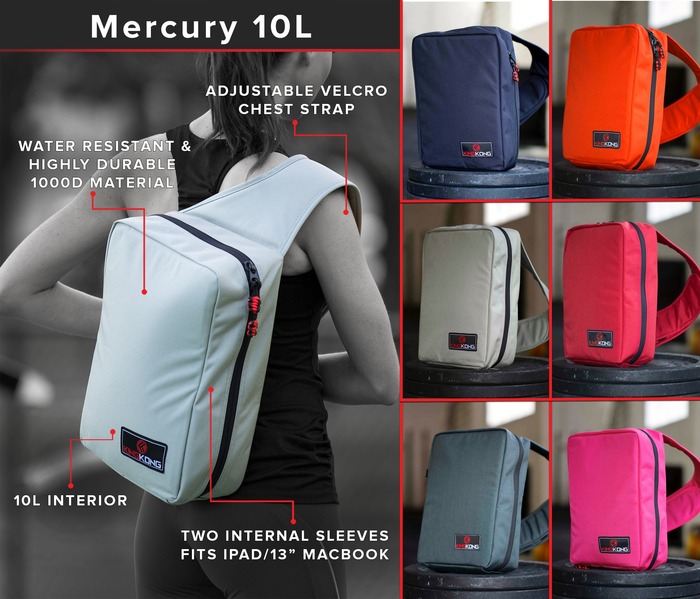 2. Fat Boy 64L- $85
This is the big one, clocking in at a massive 64 Liters. This is the gym bag for lots of stuff and is exquisitely simple. Huge storage space is accessed through the top from end-to-end, sealed with a water resistant, reverse-coil YKK zipper. A great overnighter, it has an adjustable extra-wide shoulder strap with reversible King Kong shoulder pad for carrying comfort. Post-Kickstarter MSRP $99.95. More info here.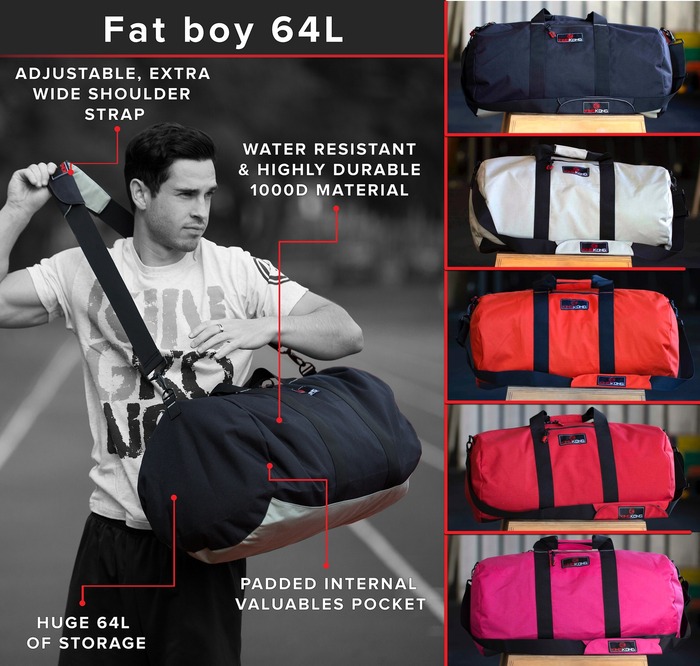 3. Giant Killer 14L – $90
Proving once again that good things do indeed come in small packages.  A spacious messenger-style gym bag the Giant Killer holds your gear in its interior, and has twin padded front pockets, and two padded side pockets, to carry even more than it can hold inside.  Post-Kickstarter MSRP $105.95. More info here.

4. Gekko 18L – $110
A work laptop bag. "Greed is good", but you're not being greedy to want all the King Kong Apparel durability and functionality and have great corporate style. That greed is good. We believe work hard, train hard and play hard and that you should look good doing it. This laptop bag takes care of the work portion. The internal elastic document sleeve and three internal zippered pockets plus added separate laptop compartment keep you neatly organized to mean business, the King Kong way. Post-Kickstarter MSRP $134.95. More info here.

5. Rucksack 25L – $115
Perfect for the athlete slash commuter who ends up having to take what seems like their entire life with them. Carry all that you want and all that you need in comfort all day long.  Ideal for the everyday grind. Train-Work-Train, repeat. Two internal zippered pockets, extra-large front pocket, side D-ring for carabiner clip-on (such as a clip on shoe bag or bottle), perfect for the daily routine. Post-Kickstarter MSRP $149.95. More info here.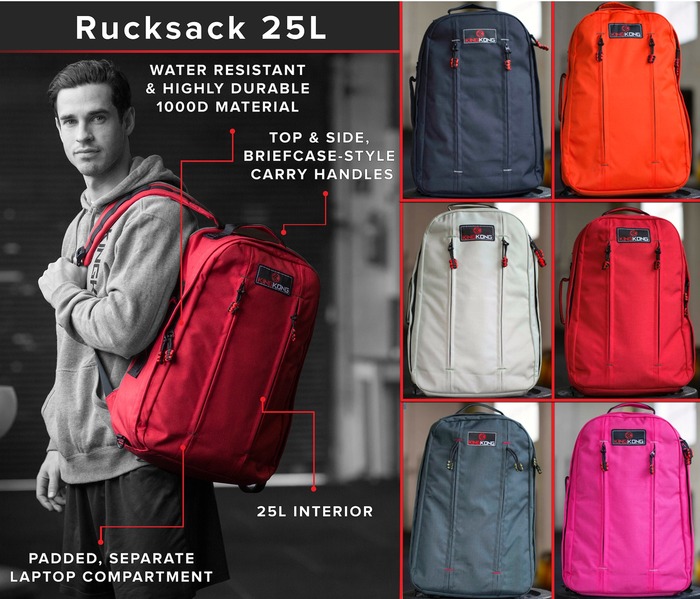 My personal favourite is the Rucksack and with a 25 year guarantee on this new range, I'm really hoping this line takes off. That said, the sleek minimal design, smooth lines and amazing color palette would find this range comfortable in a CrossFit affiliate or an office boardroom.
The Kickstarter campaign will allow King Kong Apparel to put these bags into early production with an estimated shipment date of November this year. And hey, with a 15-30% discount on their RRP, it's a great campaign to back.
The campaign closes July 28, 2014 so to find out more check out their Kickstarter here.