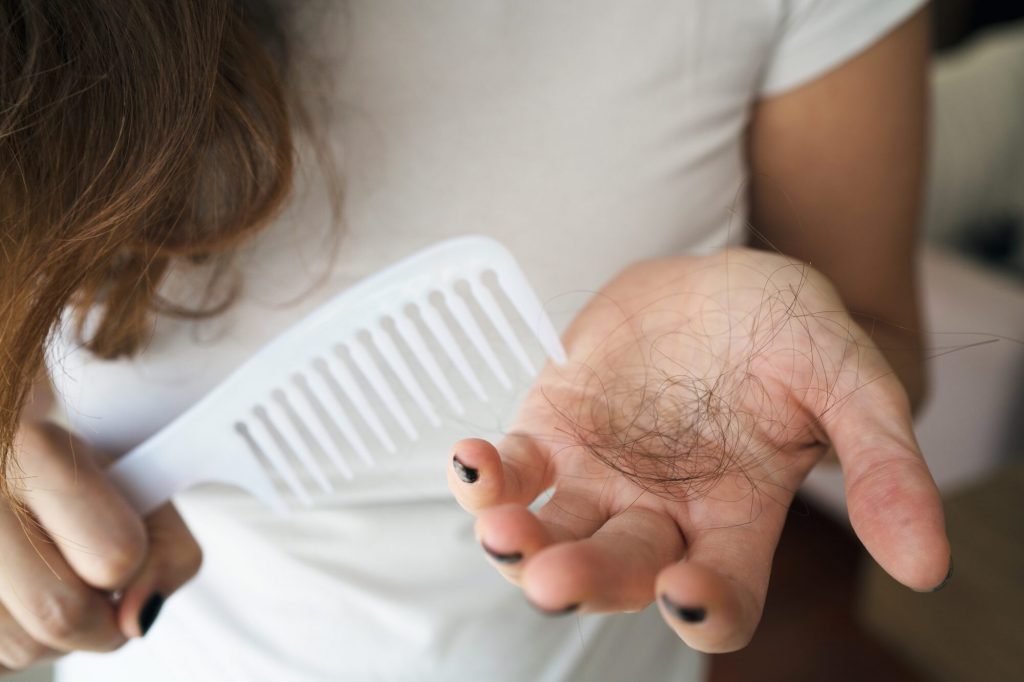 Everyone, including CrossFitters, loves their hair because it adds to one's appearance. Losing your hair can be quite stressful, especially when you see the hair strands everywhere, right? Yes, each individual does lose some amount of hair (approximately 100-150 hair strands). But then if you notice that you are losing more than the usual hair loss then you need to consult the doctor right away. 
Let us check out the warning signs of balding, so that it is not confused with normal hair fall.
Hair starts to thin at the back of the head and then gradually it results in overall hair thinning. This is one of the major signs of baldness that should not be ignored.
For this, you need to examine your scalp very closely. Here, the hair will be normal on the sides and the back but you will find thinning of the hair in the temple area and that is when receding hairlineoccurs.
Excessive hair fall, a key sign of male and female pattern baldness
Hair fall is normal but excessive hair fall is not normal at all. Scalp infections can weaken the roots of hair and may cause excessive hair fall. If you find hair strands everywhere, then it might be the result of excessive hair fall. Once you notice this, just go to the doctor immediately.
Dry skin can cause an itchy scalp, but if you notice that itching is pretty excessive, then you need to consult a doctor because this could result in male or female pattern baldness.
Shorter hair growth cycle
When the hair follicle shrinks, the new hair from the follicle becomes thinner and it gives rise to a shorter hair growth cycle. If you observe that your hair is not growing at the speed like it used to, it may be a sign of female or male pattern baldness.
One should never ignore these signs of going bald, as they might result in male or female pattern baldness and require medical attention.
Why homeopathy?
Homeopathy is one of the safest treatment options that one can go for. Homeopathy treatment for baldness is natural and does not have any side-effects when considering the other conventional treatment options.  Most people go for this treatment because it provides long-term relief. Homeopathic medicines are customized and therefore it is one of the best treatments that should be considered. Homeopathic medicines have the capacity to trigger the immune system of the body in order to fight back the disease effectively and these are the remedies that could bring back the deranged immunity. Therefore, homeopathy treatment is always preferred when it comes to male or female pattern baldness.
Why Dr Batra's™?
Dr Batra's™ homeopathy treatment for baldness is one of the most successful treatments with a patient satisfaction rate of 96.6% (as authenticated by the American Quality Assessors (AQA)). They have a special dedicated team of medical homeopathic experts that looks for the root cause of the problem and then gives the treatment accordingly. The treatment from their homeopathic doctors is administered after a carefully evaluated study of the patient's case history by considering the medical history of the patient, the temperament, the nature of the disease, the sensitivities, etc.
Is going bald concerning you much? Just visit your nearest homeopathy clinic and get treated at the earliest.
Self-help tips:
Go for a full shave: An entirely bald head is better than a few patches of hair. It does look neater and saves you from the awkwardness of having to comb few strands of hair across your head. It might be hard for you to shave off the hair that you have. But you won't regret at all.

 

Moreover, a completely bald look makes for a smart and cool style statement.
Care for your scalp: Being bald does not mean you can ignore your scalp. The success of any hair fall treatment options you might consider will totally depend on how healthy your scalp is.

 

Massage warm oil on your head before taking a shower in order to keep dry skin at bay. Wear a cap in the sun and ensure you apply sunscreen all times your head is exposed. In fact, as suggested by Hair Guard, scalp massage can stimulate hair grow and make your hair healthier and stronger.