After a muscle-burning workout involving a decreasing ladder of thrusters and burpees, it was Rich Froning who claimed victory in the live announcement throwdown for Open workout 14.5.
In front of a sell out crowd at the Kezar Pavilion in San Francisco, California, five former CrossFit Games champions threw down in the fifth and final workout of the 2014 CrossFit Open.
Just moments after Games Director Dave Castro revealed the details of 14.5, Jason Khalipa, Rich Froning, Graham Holmberg, Sam Briggs and Annie Thorisdottir all completed the workout together, at the same time. For the first time in a live workout announcement, male and female athletes competed against each other!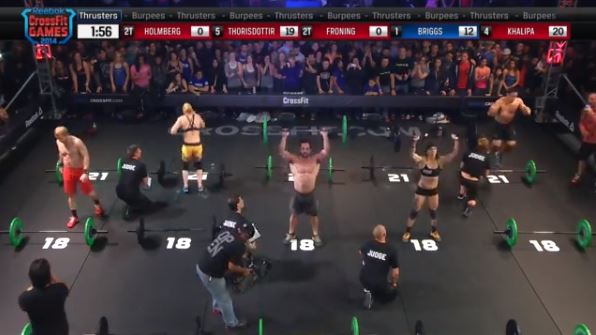 In the early stages, it was Sam Briggs who led the way. The reigning CrossFit Games champion was the first athlete to complete the round of 21 thrusters and burpees, and managed to stay in front until just after the six-minute mark, when Rich Fronig overtook her.
The three-time Games champion passed Briggs on the round of nine thrusters and burpees and never looked back, finishing 14.5 in first place in an unofficial time of 8:25.
Briggs was right behind Froning, finishing her final burpee just six seconds later.
Jason Khalipa was next to complete the workout, finishing 39 seconds behind Froning in a time of 9:05, while Graham Holmberg was fourth in a time of 10:20.
Two-time CrossFit games champion Annie Thorisdottir, who is returning from a back injury was last to complete the workout in a time of 11:04.
Now it's time for you to have a shot at the 14.5 workout!
Make sure you head to the CrossFit Games website for all the details and the full workout description of 14.5.