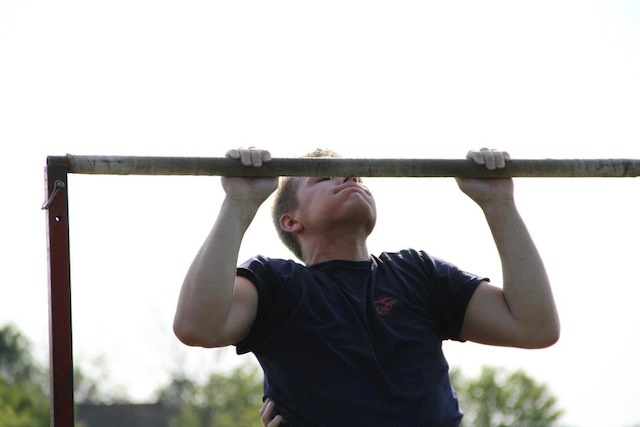 Under new guidelines released by the US Marines yesterday, female Marines will soon be required to complete 3 pull-ups to pass their physical fitness tests.
The process of the this new requirement will begin next year, with full implementation commencing in 2014.
Consequently, females will be required to complete 3 pull-ups, with 8 repetitions needed for a perfect score. Currently men must also do 3 pull-ups but are required to obtain 20-reps for a perfect score.
This transition will take place in two phases. "Phase one" will begin on 1 January 2013. As the Marines stated:
PHASE ONE WILL SERVE AS A TRANSITION PERIOD AND IS INTENDED TO ALLOW COMMANDERS AND INDIVIDUAL FEMALE MARINES TO ADJUST INDIVIDUAL AND UNIT TRAINING ROUTINES TO PREPARE FOR IMPLEMENTATION OF THE NEW REQUIREMENTS. THE FAH WILL REMAIN AS PART OF THE INITIAL STRENGTH TEST (IST) CONDUCTED IN RECRUITING AND UPON ARRIVAL AT MARINE CORPS RECRUIT DEPOT PARRIS ISLAND (MCRDPI) AND DURING PFT'S CONDUCTED AT RECRUIT TRAINING.
They go on to state "Phase two" will:
COMMENCE ON 1 JANUARY 2014. PULL-UPS WILL REPLACE THE FAH PORTION OF THE PFT. THE FAH WILL, HOWEVER, REMAIN AS PART OF THE IST CONDUCTED IN RECRUITING AND AT MCRDPI. PFT'S CONDUCTED IN THE OFFICER SELECTION PROCESS AND DURING THE INVENTORY PFT AT OCS WILL ALSO INCLUDE THE FAH. PASSING THE PFT WITH PULL-UPS INSTEAD OF THE FAH WILL BE A GRADUATION REQUIREMENT FOR RECRUITS AND OFFICER CANDIDATES BEGINNING 1 JANUARY 2014.