Rich Froning might have showed the world last week why he is the fittest man on earth, but Jason Khalipa showed us this weekend that he is a genuine chance of reclaiming the title.
The 2008 Games champion blitzed the field at the NorCal CrossFit Regionals, winning three of the six events to finish on top of the leaderboard. His training partner and good friend, Neal Maddox, finished in second spot with top two finishes in all but one of the workouts.
Just as Rich Froning and Dan Bailey did in the Central East CrossFit Regionals, Khalipa and Maddox dominated the weekend, finishing well ahead of the rest of the pack.
There were are a few surprises however, with last years 5th place finisher at the Games, Blair Morrison, finishing in 5th position and failing to qualify. Gabe Subry recovered from a poor result in Diane to sneak into third spot, while CrossFit veteran Joey Warren will also go to the Home Depot Center in July, after finishing fourth.
Usually only the top three athletes go through, however with a previous champion finishing on top (Khalipa), Warren also gets a ticket to California.
In the women's half, Jenny LeBaw upset crowd favourite Annie Sakamoto for the title, while Candace Hamilton Hester rounded out the top three. Sakamoto, who finished 9th in the Games last year, needed a good performance in the final workout to return to the Home Depot Center and did just that by finishing 1st.
CrossFit 808 claimed the teams title, with RCF Honey Badgers and Diablo CrossFit Anejo rounded out the top three.
Here are the final leaderboard standings of the NorCal CrossFit Regionals: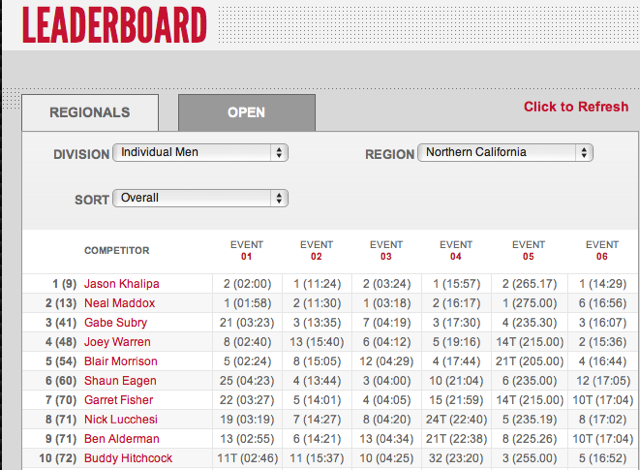 Men:
Women:
Team: