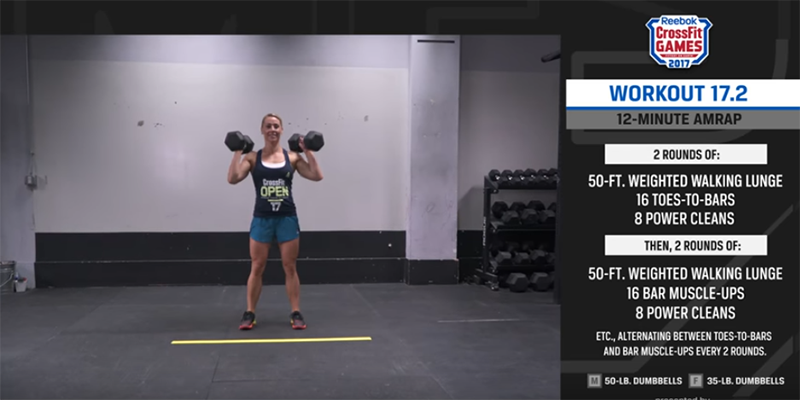 The second week of the 2017 CrossFit Open is now underway with 17.2 announced by Dave Castro a short time ago.
Once again we have a new movement in the Open with dumbbell cleans and lunges included in the programming. That's just a week after athletes completed 150 dumbbell snatches in 17.1. Ouch!
For those who haven't seen it yet, CrossFit Open 17.2 is:
12 Minute AMRAP (as many rounds as possible)

2 rounds of:
50-ft. weighted walking lunge
16 toes-to-bars
8 power cleans 
Then, 2 rounds of:
50-ft. weighted walking lunge
16 bar muscle-ups  
8 power cleans  
Etc., alternating between toes-to-bars and bar muscle-ups every two rounds.
Men use 50lb dumbbells, women use 35lb
As always, a lot of planning and strategy can go into tackling a workout like this.
Here are what some of the leading athletes and trainers and saying about 17.2 and what 17.2 tips and advice you can take before giving it a crack:
Good luck and happy training!
CrossFit's Nicole Carroll:
Rich Froning and the boys from Mayhem CrossFit:
Stephanie Ring from Endure Yoga: