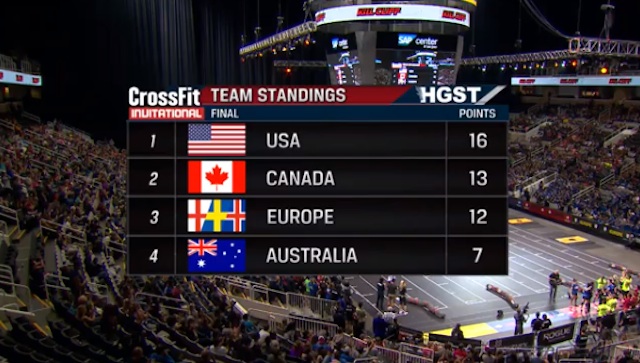 Team USA came into the CrossFit Invitational looking for redemption after their shock loss to Team World in 2013. By the end of this year's competition they had acheived exactly that, beating Team Canada by three points to claim this year's title.
The invitational was made up of five events, held over two hours, featuring top athletes from four of the world's strongest regions: USA, Canada, Europe and Australia.
Here is a breakdown of how the competition unfolded.
Event 1:
The Australians went out hard in the pull-up thruster relay with Kara Webb establishing a six rep lead over the Americans.
Rob Forte and Denae Brown were able to hold that lead despite a massive surge from Camille Leblanc-Bazinet for Canada.
It came down to the last athlete; however, with Canada's Paul Tremblay chasing down Khan Porter through the thrusters.
Canada finished in a time of 8.50 to take victory over the Australians by seven seconds.
Team USA came in third in a time of 9.15 with Europe well behind the pace, finishing in 10.13.
1. (6) Canada
2. (4) Australia
3. (2) USA
4. (0) Europe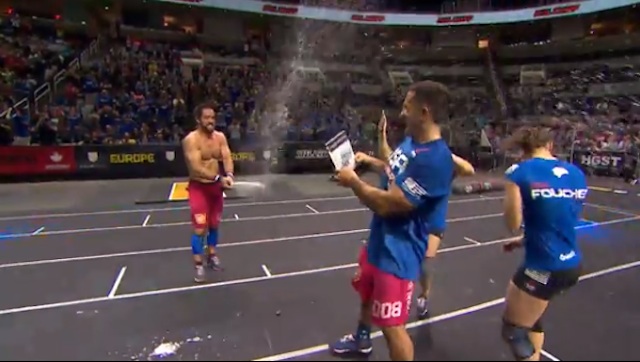 Event 2:
The 1 rep max snatch saw the athletes put a show on for the crowd.
In the women, the race was between Canada's Michele Letendre and Australia's Kara Webb with both ladies nailing a 190lb snatch with one attempt remaining.
Victory went to Webb with a 195lb snatch, which equaled her previous personal best. Letendre set a new PR with a successful lift at 192lb.
When the men took to the floor all eyes were on Team USA's four-time CrossFit Games champion Rich Froning who had a recorded personal best of 305lb – 14lbs more than Canada's Lucas Parker.
From the outset, Froning put on a show for the crowd with an opening weight of 280lb, which was 35lb more than Parker and Europe's Bjorgvin Gudmundsson, who would fail to complete a lift.
While Froning missed the lift, he successfully hit 285lb on his second attempt with Parker landing 265lb to send the two into the second three attempts.
Froning went on to absolutely dominate with a successful lift at 305lb to take the event by 40lbs over Parker.
Team USA won the 1rm snatch with a total of 482lb with Canada in second with a 457lb total.
1. (8) Canada
2. (5) USA
3. (5) Australia
4. (0) Europe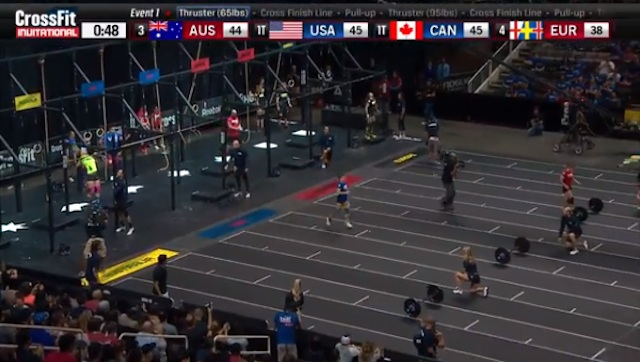 Event 3:
Canada's Camille Leblanc-Bazinet carried the weight of a nation going into the 1-rep-max clean and jerk with a recorded total of 238lbs, but Europe's Annie Thorisdottir gave her a run for her a money.
The two women were in a league of their own from the outset with Australia's Denae Brown and USA's Julie Foucher unable to get within 20lb of the frontrunners.
While Leblanc-Bazinet held a narrow lead from the outset with a starting weight of 215lb, Thorisdottir wasn't far behind with a 212lb power clean and jerk.
Not much would separate the two all the way to the final lifts with Camille equaling her previous best of 238lb.
Iceland Annie was just 2lbs behind; however, with a 236lb power clean and jerk.
Canada's Paul Tremblay came out and made his mark from the get go for the men with an easy opening lift at 335lb. Tremblay then followed up with a 355lb lift.
Team USA's Jason Khalipa would chase hard but would be unable to catch Tremblay's final lift of 365lb, despite an attempt at 370lb, which he successfully cleaned.
Canada finished in first with a total of 603lb. Europe took second with 577lb.
1. (11) Canada
2. (6) Team USA
3. (5) Australia
4. (2) Europe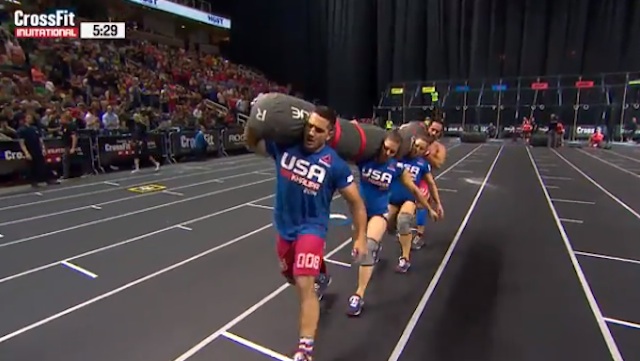 Event 4:
The partner workout of synchronized muscle-ups, deadlift holds, rowing and alternating snatches was the first time the teams were forced to work together to find success.
Team Europe came out strong with the pairing of Annie Thorisdottir and Sam Briggs to take a lead the team wouldn't relinquish.
The girls dominated from the first 30 calorie row with Briggs strong on the 275lb deadlift hold.
While the Canadian women made a bid to take the lead, it wasn't to be enough with the combined engines of Briggs and Thorisdottir enough to get Team Europe through the second row and to the finish mat well in front of Canada and Team USA.
The Australian women struggled from the outset with Webb and Denae Brown breaking the muscle-ups into sets of three to fall too far behind to catch up.
Gudmundsson and Lukas Hogberg from Team Europe maintained the lead set by the women and powered down the floor to finish in a time of 13:22, but the race for second place was on.
Canada's Parker and Tremblay took to the floor with a narrow lead, but Team USA's Khalipa and Froning had a point to prove.
By the first set of alternating snatches Team USA had caught the Canadians and the men didn't look back with Khalipa pulling on the rower so hard the machine had to be held in place.
Team USA crossed for second in a time of 14.20 and Canada crossed 15 seconds later.
Team Australia was unable to complete the event.
1. (13) Canada
2. (10) Team USA
3. (8) Europe
4. (5) Australia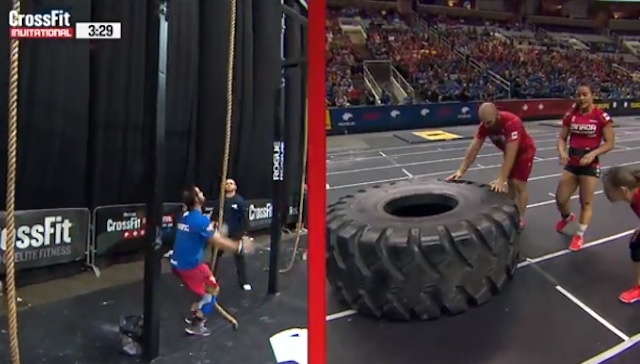 Event 5:
Three teams were in the running to take out the competition coming into the final event; however, all eyes were on the showdown between rivals and neighbours Team USA and Canada with Europe an outside chance.
For Team USA to win, Canada needed to finish in third or fourth.
Event 5 made all four members of the team work together and started with a conga-line style handstand walk where if one member fell, the whole team had to stop.
Team USA went out strong from the outset and appeared to be handstand running rather than walking to be the first team onto the partner 950lb, 120ft tyre flip.
Canada wasn't far behind onto the tyre, but it was to be their achilles heel with Tremblay and Letendre struggling with the movement.
Both Europe and Australia overtook Canada to get to the legless rope climbs, but Team USA had a massive lead with all their athletes making light work of the two consecutive climbs to make their way back down the floor in alternating walking lunges with the worm.
Team USA finished in a time of 6.12.
It was a close race for second and third with just half a second separating Europe and Australia.
Europe finished in a time of 7.43.17 with Australia narrowly taking third in a time of 7.43.71.
For the first time in the competition, Canada came in last place and was unable to complete the workout inside the time cap.
Overall standings:
1. (16) Team USA
2. (13) Canada
3. (12) Europe
4. (7) Australia
The Team USA victory was incredibly sweet for veterans of the 2013 loss, Jason Khalipa and Rich Froning.
Both men announced their retirement from individual competition at the end of the 2014 CrossFit Games and the win has capped off a landmark year for both of them.
Team USA proved that a team of champions can be a champion team.