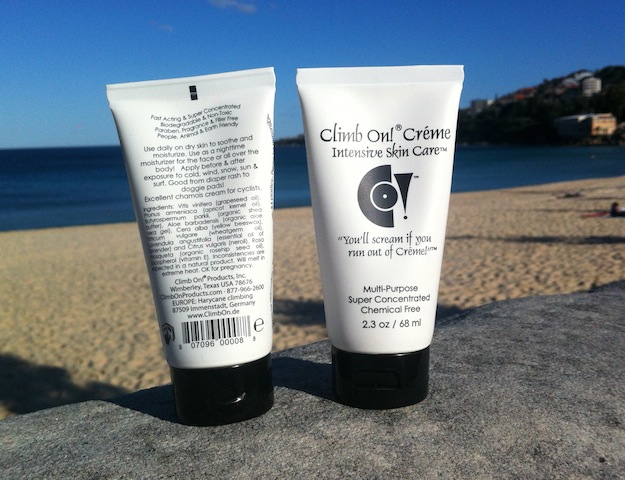 It's Monday, so time for another giveaway! This time we are giving you the chance to win one of 20, yes TWENTY, Climb On! Multi Purpose Intensive Skin Care Creams.
As some of you may know we recently reviewed the Climb On! Bar, and found it to be amazing. I'm glad to report that the Créme is not only as good as the Bar but possibly even better! Like the Bar the Créme is 100% natural and made from food grade based ingredients.
I have been using it for the last few months and love the fact you can apply it to the smallest cuts, tears, scratches or simply use it as an everyday moisturizer. I've used it after tearing my hands on a set of butterflies and just like the bar was amazed how fast it helped them heal.
Then just last week I was rolling on the mats during a Jiu Jitsu session, when I suffered a terrible kind of carpet burn on my shoulder. When I took off my gi, I saw the skin on my left shoulder was literally burnt off.
I considered using the Climb On! Bar but knew that would be way too painful. So I immediately began applying the Créme and within 24-hours was amazed to discover my shoulder had almost totally recovered. I've had burns like this in the past but never have I healed so fast.
As the Climb On! website states:
Every ingredient in this product has an active purpose in moisturizing, soothing and synergistically working with your skin to maintain a healthy balance. The unrefined beeswax in this product serves as an emulsifier, humectant and is naturally water resistant. The high content of vitamin A in the unrefined, beeswax, is a key component in human cell development, has antibacterial properties and has been recognized as valuable and used for thousands of years.
It's a deep moisturizer and acts like food for your skin in that it nourishes as well. Apply CO! Creme to your skin to moisturize and nourish if you are in the sun, wind, ice, rain, water, chemicals, etc. Use after extreme exposure for moisturizing relief. Make-up remover, cuticle cream, intense nighttime moisturizer, before and after the sun lotion, as a conditioning aftershave for face or legs. Climb On! Creme is a perfect moisturizing diaper rash cream, as a cradle cap lotion or any skin problem that is tender and needs easy application in order to moisturize.
As you can see Climb On! Créme really does have countless uses and at $14.50, this product is so good it should be in every CrossFitters bag. The good new is you don't have to take my word for it, because we are now giving you the chance to try it for yourself.
All you have to win is tell us in comments below why you think having a tube of Climb On! Créme would be useful.
We will keep the competition open until we give away the last tube. We should also mention this competition is open to anyone in the world regardless of location. So good luck!
This Giveaway is now over. Please click here to see if you won. Thanks to everyone who took part!