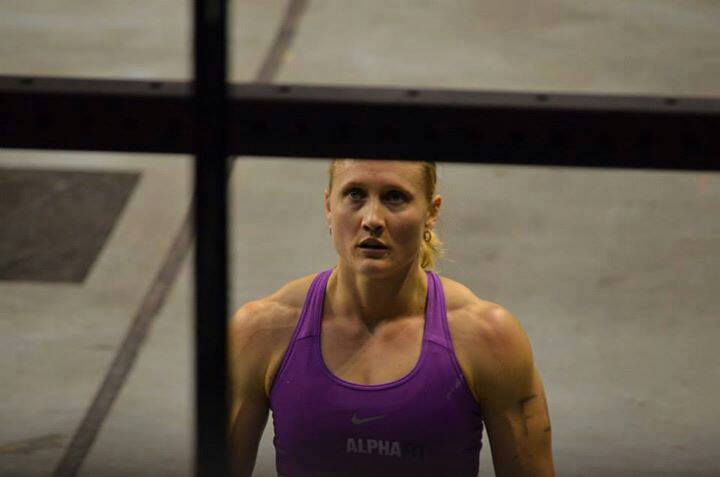 After three days of tough competition, the 2013 CrossFit Australia Regional wrapped up on Sunday evening at WIN Stadium in Wollongong, New South Wales, Australia. Three teams, three women, and three men were ultimately invited to represent the Region at the CrossFit Games in Carson, California this July.
But before the top athletes in Australia and New Zealand could climb the podium, one very deserving athlete stepped on the field prior to the awards presentation to receive the Spirit of the Games award.
Individual competitor Andrea Miller was presented with the Spirit of the Games, an award given to the athlete who best represents the fierce dedication and intensity that epitomizes the sport.
After impressive performances on Day 1, Miller earned a spot in the top female heats for the second day of competition on Saturday. During the fourth event, however, Miller battled extreme fatigue in the last 15 minutes of the 25minute workout, and was finally helped off the field by medical staff.
Despite suffering from severe exhaustion, the former Olympic hurdler Miller went on to finish the remaining three workouts, and even managed to hold onto her spot in the top female heat until the final Event. She finished the weekend in 17th place.
There aren't many people who would have, or could have, done what she did. What sets Miller apart though is the same thing that sets CrossFitters apart from other athletes. CrossFitters like Miller are truly a different breed of athlete, whose mental and physical endurance pushes them to achieve with ease what, for most people, just doesn't seem possible.
Sometimes, CrossFit athletes tend to forget that not everyone enjoys sweating and hurting their way through a workout. That not everyone likes to talk about their calluses and blisters. That the idea of putting yourself in physical agony to finish a hero WOD doesn't occur to most people, nor does it sound fun. But this whole CrossFit thing is fun, and it's those athletes who embody bravery and strength, who are just a bit insane, who make CrossFit what it is and push the sport forward.
The exceptional depth of strength and endurance at the 2013 Australia Regional is a testament to what CrossFit athletes all over the world already know: the field of competition is getting bigger, stronger, and faster every year, and the athletes who stood out this year in their Regions could easily be outdone next year.
But knowing that the fastest time or heaviest lift today may be beaten tomorrow, isn't enough to discourage CrossFit athletes. True to the spirit of the sport, that kind of pressure only inspires them. Individual and team competitors are moving faster, lifting heavier, and eating cleaner in an effort to get to the top and stay there in a sport that is redefining 'elite' daily.
CrossFit is CrossFit because of athletes like Andrea Miller. Anyone who has ever aspired to compete at an elite level owes something to athletes like her who pick up the bar and keep moving, even when they feel like resting or stopping altogether. Watching Miller and other top athletes surpass their own physical limitations for the love of the sport reminds CrossFitters everywhere that we always have more to give.
Everyone who sat in the stands at a Regional competition this year and said, "next year, I won't be  watching, I'll be competing," is your competition. They are the athletes who are bridging the gap between brute strength and technique, between sheer speed and physical endurance. They are the athletes who will make CrossFit even tougher in a year's time.
For now, though, with the majority of Regional competitions done and dusted, CrossFitters are left to do what they really do best: rally together in support of the athletes from their Regions, and cheer them on as they compete for the rightful title of Fittest on Earth.