http://instagram.com/p/5lHhCelDoJ/
The 2015 CrossFit Games continues to deliver punches. Yesterday, many were calling this year's competition to be arguably the most physically grueling Games that we have seen. After today, it can almost certainly be confirmed.
Day 3 saw athletes put through four more events, with athletes once again struggling in hot Californian heat.
In the women's half, we started to see the 'new breed' of athletes rise to the top with several Games rookies in the running to claim the title of 'Fittest on Earth'. While in the men's half it turned int the 'Mat and Ben show' with Mat Fraser and Ben Smith battling it out on top of the leaderboard.
Here's how Day 3 of the 2015 CrossFit Games unfolded:
Sprint 1 and 2
The day began with two sprint events worth 50 points each. This year, the sprint event was composed of pylons which formed a zig zag not unlike that which featured at the 2013 Games. Additionally, competitors had to contend with four hurdles before clearing the entire length of the field in the Soccer Stadium.
Women
The women who have dominated the leaderboard over the weekend – Sara Sigmundsdottir, Kara Webb, Sam Briggs, Michelle Letendre – had their worst event in the Springs, with all of them finishing outside of the top 30.
It was Lindy Barber, who had her rookie season in 2013, who won the first sprint. Kristin Holte then went on to beat Barber by one place to take out Sprint 2.
Women Event 6 Results:
1. Lindy Barber

3. Kristin Holte

5. Sammy Wood

Women Event 7 Results:
1. Kristin Holte
2. Lindy Barber

4. Alex Parker
5. Sammy Wood

Men
In his first event win after five appearances at the CrossFit Games, Dan Bailey took out both Sprint 1 and 2 in the Men's competition. Bailey, the former college sprinter, was dominant and charged the course with commanding skill and speed, proving his supreme athleticism.
Scott Panchik and Canadian rookie Joe Scali (who later withdrew from competition with a torn bicep) took out second place in Sprint 1 and 2 respectively. Another rookie, Chad Cole, rounded out the top three in both events.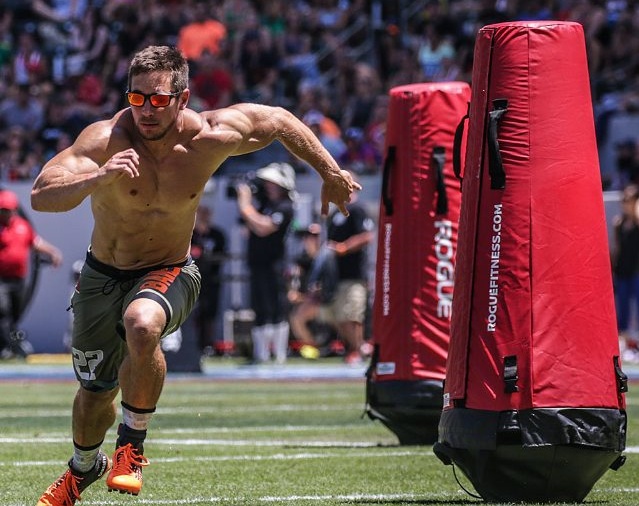 Men Event 6 Results:
1. Dan Bailey

2. Scott Panchik

3. Chad Cole

4. Cole Sager
5. Kevin Manuel

Men Event 7 Results:
1. Dan Bailey 
2. Joe Scali

3. Chad Cole

5. Cole Sager

Soccer Chipper
The grueling event consisting of a 100ft. Pig flip (560lb/254kg and 395lb/180kg), 4 legless rope climbs on a thick rope and a 100 ft. handstand walk to be done in two 50ft unbroken efforts.
Women
Elizabeth Akinwale, the Games legend, took out first place for the women. Akinwale, clearly an athlete comfortable with both heavy weight and technical gymnastics, was the only woman to finish in under nine minutes with a time of 8:40.
Rookie Kari Pearce came in 2nd with 9:02 and Sammy Wood came in 3rd proving again that she could be a real contender for years to come.
Women Event 8 Results:
1. Elisabeth Akinwale

2. Kari Pearce

3. Sammy Wood

4. Ragnheiður Sara Sigmundsdottir
Men
The unique mixture of heavy lifting and gymnastic ability proved a lethal combination for some.
Mat Fraser had a terrible event failing to complete the workload and allowing Ben Smith, who won the event in a commanding 4:30, to further his overall lead. Cole Sager finished in 3rd with rookie Kevin Manuel placing 4th.
Men Event 8 Results:
1. Ben Smith

2. Spencer Hendel

3. Cole Sager

4. Kevin Manuel 
Clean and Jerk
Athletes know that when a CrossFit Games event calls for a 1RM it's time to bring it… and bring it they did. Despite the beating their bodies taking some serious toll over the past few days of competition, athletes managed to lift some serious weight in the ninth event.
Women
In the women's division, rookie Brooke Wells shone lifting a massive 232lb/105kg despite which was good enough for equal tie with Emily Abbott.
It was, however. the 'Lindsey and Brooke' show in the end. – Lindsey Valenzuela delivered her trademark energy with a lift of 240lb/108kg which placed her second behind Brooke Ence who bested 242lb/109kg to win her 2nd event at the Games.
Women Event 9 Results:
1. Brooke Ence

2. Lindsey Valenzuela

3. Emily Abbott

4. Brooke Wells
Men
In the men's half, the 'Mat and Ben' show was one that was keenly anticipated in this event. Smith exuded confidence as he made both lifts perfectly, uncharacteristically showing a wild burst of emotion as he made the 347lb/155kg lift which placed him an equal 2nd with rookie Nick Urankar who made his second lift after missing his first.
It was, however, another remarkable rookie in Aaron Hanna who lifted the winning 350lb/158kg. Mat Fraser did some damage control after his disastrous finish in the Soccer Chipper to finish the event in 4th place with a 242lb lift.
Men Event 9 Results:
1. Aaron Hanna

2. Ben Smith

3. Nick Urankar

4. Mathew Fraser
5. Jon Pera
Triangle Couplet
Saturday night in the Tennis Stadium is becoming something of a CrossFit Games tradition – the fans extraordinary presence and enthusiasm pulling the athletes through the grueling "Classic CrossFit" couplet of 15-10-6 Thrusters/Bar Muscle-ups. Unlike many couplets however, the thrusters were HEAVY – 165lb/75kg for men and 115lb/52kg for women.
Women
2014 Games champ Camille Leblanc-Bazinet blazed the field finishing in a soaring 4:47. Sam Briggs coming in 2nd with 5:22 and Amanda Goodman's first heat time of 6:01 held for her to take 3rd.
Kara Webb finished 4th which moved her into a 2nd place overall coming into the final day of competition – well within striking distance of Sara Sigmundsdottir, who had some issues with her grip in the Triangle Couplet finishing in 7:23 or 18th place. Her result, however, was enough for her to retain first place overall.
Women Event 10 Results:
1. Camille Leblanc-Bazinet

2. Samantha Briggs

4. Kara Webb
5. Alethea Boon
Women's Leaderboard after Day 3:
1. (589) Ragnheiður Sara Sigmundsdottir

2. (569) Kara Webb

3. (556) Katrin Tanja Davidsdottir

4. (514) Tia-Clair Toomey 
5. (500) Lindsey Valenzuela
Men
Mat Fraser may have played it safe during the Clean and Jerk but he brought the fire to the Triangle Couplet finishing in 4:43. Ohlsen claimed second in 4:47 and Sager proved dominant again finishing in 4:52. Dan Bailey finished the day strongly as well, winning his heat to claim 4th in the Event.
Smith, who finished in 6th, was still able to hold onto his overall lead heading into the final day of competition.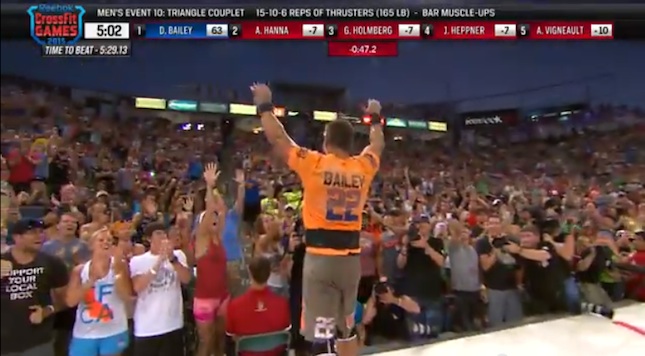 Men Event 10 Results:
1. Mathew Fraser

2. Noah Ohlsen

3. Cole Sager

4. Dan Bailey 
5. Scott Panchik
Men's Leaderboard after Day 3:
1. (663) Ben Smith

2. (645) Mathew Fraser

3. (574) Cole Sager

4. (535) Scott Panchik 
5. (527) Björgvin Karl Guðmundsson