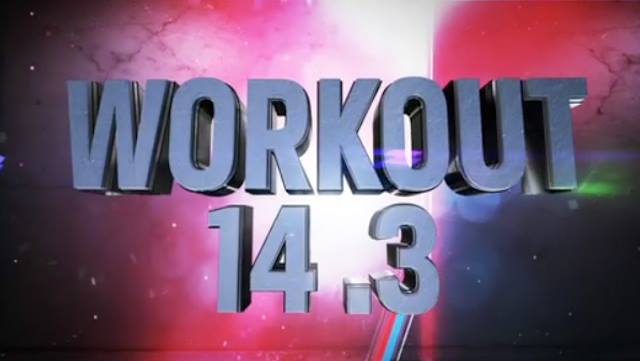 Well the third week of the 2014 CrossFit Open is now officially over with the online leaderbaords finalised for 14.3.
After two weeks of relatively lightweight exercises, athletes were presented with an 8-minute AMRAP of heavy deadlifts and box jumps in week three.
In the end not one competitor was able to complete an entire round, with the ascending ladder of deadlifts proving too heavy.
Overall, Danielle Sidell posted the highest score in the world completing 192 reps, finishing one rep ahead of Elisabeth Akinwale. You might remember Sidell's name from last year, after she was disqualified from the 2013 CrossFit Open for failing to meet the movement standards in 13.2. Her score of 420 was the highest in the world at the time but her questionable form in the AMRAP of shoulder-to-overehads, deadlifts and box jump workout meant she scored zero for that week.
Ironically, it was in another AMRAP of deadlifts and box jumps that Sidell was able to achieve redemption.
In terms of the overall leaderboards, reigning CrossFit Games champion Sam Briggs is still in first place, with Kaleena Ladeairous second and two-time Games champion Annie Thorisdottir in third place.
Last year's podium finishers at the Games, Valerie Voboril and Lindsey Valenzuela are both inside the top 40.
In the men's half, four-time CrossFit Games competitor Austin Malleolo was the standout performer, finishing with a score of 182. South East competitor Steven Platek and Mid Atlantic competitor Nate Schrader tied Malleolo on the rep count, but fell behind him on the tiebreak time.
The result isn't too surprising given Malleolo has a one-rep-max deadlift of 570 pounds.
In the overall leaderboard following the 14.3 results, Rich Froning is still the man to catch in first place, with last year's podium finishers at last year's Games right behind him. Jason Khalipa is 19 points adrift in second place while Ben Smith is third.
Dan Bailey is also in striking distance in fourth place overall while Scott Panchik, Grahame Holmberg and Tommy Hackenbruck are all inside the top 10.
The big slider this week was Josh Bridges who dropped from second place all the way down to 157th after struggling with the heavy deadlifts. His score of 148 was the 1337th best score in the world.
And with 14.3 now in the books, our attention turns to 14.4 and what to expect in the fourth week of the 2014 CrossFit Open. The second last workout of the Open will be announced live at 5PM PT, on Thursday, March 20 in Seattle, Washington.
As usual, Games Director Dave Castro will reveal all the details before another head-to-head battle takes place, this time with Josh Bridges and Scott Panchik competing.
Here is a look at the 14.3 results and how the leaderboards stand after week three of the 2014 CrossFit Open: