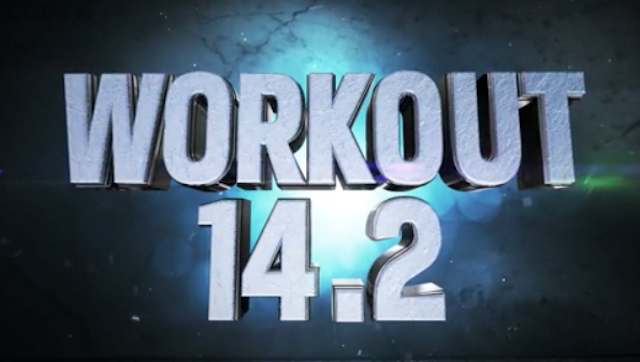 Week two of the 2014 CrossFit Open is now officially over!
After millions of snatches and double-unders in week one, athletes from around the world were faced with a gruelling ascending ladder of overhead squats and chest-to-bar pull-ups in 14.2.
Just like 13.5 last year, a time bonus was awarded to any athlete who managed to complete the required reps in the time allocated, meaning, in theory, the workout could go on forever.
In the end, it was Camille Leblanc-Bazinet who posted the best score, completing a remarkable 404 reps. Her score was 132 reps better than the first time she did the workout in a head to head battle with Talayna Fortunato.
To give you an idea just how impressive Lebalnc-Bazient's score is, her nearest rival in the women's half was Kelley Jackson who's score was 51 reps fewer than the French Canadian's.
In the men's division, two-time Regional competitor Irving Hernandez posted the best score. The 26 year old from the South East completed 396 reps, 37 more than Rich Froning, who finished 14.2 in second place.
In terms of overall leaders, Leblanc-Bazinet's efforts in 14.2 see her jump to first place in the women's Division, holding a one point lead over Australian Kara Webb. Another Canadian, Michele Letendre, is third overall.
Former CrossFit Games champions Annie Thorisdottir and Sam Briggs are both inside the top 10, while the returning Julie Foucher is in 28th place.
In the men's half, plenty of big names make up the top five. Froning has now jumped to first place, with Josh Bridges second and Ben Smith third. Jason Khalipa is right behind him in fourth place while Scott Panchik is fifth.
Dan Bailey and Grahame Holmberg are also inside the top 12.
Now, unfortunately a few big name athletes suffered injuries this week and most probably won't be competing for the remainder of the Open.
Three-time CrossFit Games competitor Daniel Tyminksi injured his shoulder in 14.2 and has revealed he won't be taking any further part in the Open, while there are reports Canadian Albert Dominic Larouche has also injured himself and won't be competing any further either.
And with 14.2 now in the books, our attention turns to 14.3 and what to expect in the third week of the 2014 CrossFit Open. The third workout will be announced live at 5PM PT, on Thursday, March 13 in New Orleans, Louisiana.
As usual, Games Director Dave Castro will reveal all the details before another head-to-head battle takes place, this time with Stacie Tovar and Allesandra Pichelli competing.
Here is a look at the 14.2 results and how the leaderboards stand after week two of the 2014 CrossFit Open: