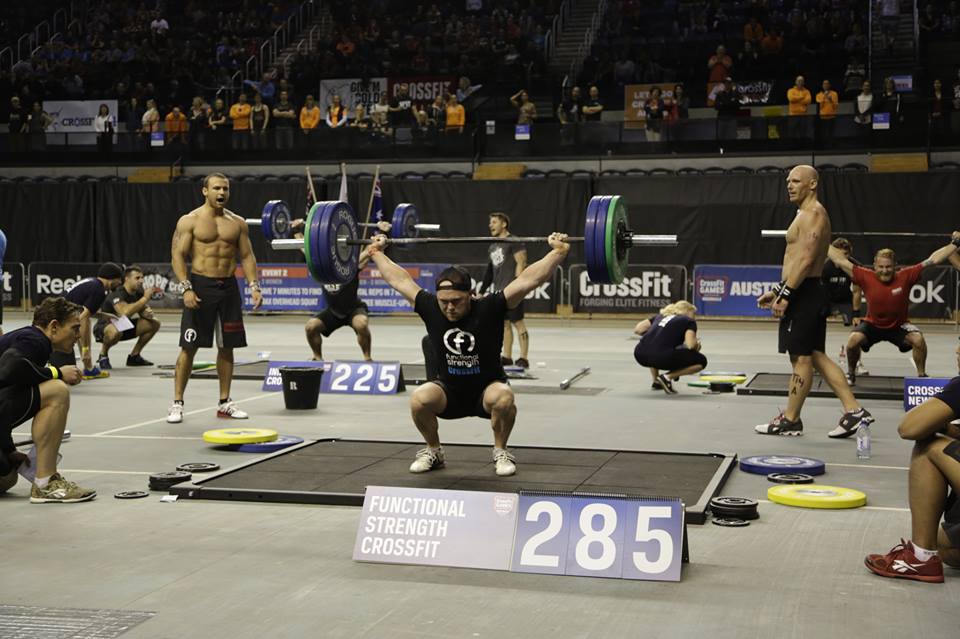 The 2013 Australia CrossFit Regional is well under way with the first day of competition wrapping up yesterday at WIN Stadium in Wollongong, New South Wales, Australia.
30 teams, 44 individual female competitors, and 46 individual male competitors took to the field to complete three separate events: "Jackie," a seven-minute overhead squat ladder, and thirty burpee muscle-ups.
After an impressive effort by all competitors throughout three gruelling events, the standings for the first day have been confirmed.
Schwartzs CrossFit Melbourne, CrossFit Athletic, CrossFit Horizons, CrossFit Active, and Southern CrossFit are currently holding onto first through fifth places, respectively.
In the female's division, Kara Webb, Pip Malone, Amy Dracup, Ruth Anderson Horrell, and Jessica Coughlan claim the top five. Amanda Allen, who finished first in Australia in the CrossFit Open, is currently in sixth place, while Lindsay Hurte, who finished 32 in Australia in the Open, jumped into seventh place following a solid first place finish in her heat for "Jackie," and solid performances in both the second and third events.
Not surprisingly, Chad Mackay leads the individual male competitors, followed closely by Keegan Wolfenden, Matt Healey, Kevin Manuel, and Brendan Clarke. Rob Forte, who finished first in Australia in the Open, is currently holding onto seventh place.
The current leaderboard heading into day two of the Australia CrossFit Regional is only a small indication of the immense intensity brought to each event by all athletes. As the day progressed, athletes from all over Australia and New Zealand awed the nearly sold out crowd as they crept close to worldwide Regional event records and shattered their own PBs in the overhead squat ladder.
The women from Team Functional Strength CrossFit (8th) captivated the entire stadium during the overhead squat event, successfully completing three 195-pound overhead squats. Later, during the individual women's competition, Pip Malone (2nd) successfully completed three overhead squats at 190 pounds, and completed two reps at 195 pounds before failing.
Only a handful of women were able to complete all thirty burpee muscle-ups before the seven minute time cap. Amy Alessi (24th) and Amy Dracup (3rd) were the clear stand-outs in this event, finishing all thirty well before seven minutes were up.
Chad Mackay (1st), Rob Forte (7th), and Brandon Swan (8th) dominated the overhead squat ladder in the men's individual competition, each completing three reps at 285 pounds.
The third event, however, belonged to Rory Boyden, who finished all thirty burpee muscle-ups in an official time of 4:23, an impressive feat considering that the 2013 CrossFit Regional record as of Friday was 4:11, set by Kenneth Leverich at the Southern California Regionals. Matt Healey (3rd) and Michael Roach (6th) gave impressive performances as well, finishing in 4:25 and 4:30, respectively.
Only 22 teams will continue on to join the individual male and female competitors in the second day of events. Teams, followed by individual women and individual men, will begin with the fourth- and most anticipated- event of the 2013 CrossFit Regionals: 100 wall balls, 100 chest-to-bar pull-ups, 100 alternating one-legged squats, and 100 alternation one-arm dumbbell snatches. The fifth event, 21-15-9 reps of deadlifts and box jumps, will be held this afternoon.
Check back for more complete coverage of the 2013 Australia CrossFit Regional, as qualifying teams and all male and female individual competitors continue on to the third and final day of competition tomorrow. The top three men, women, and teams will be invited to compete in the 2013 CrossFit Games in Carson, California, held June 22-28.