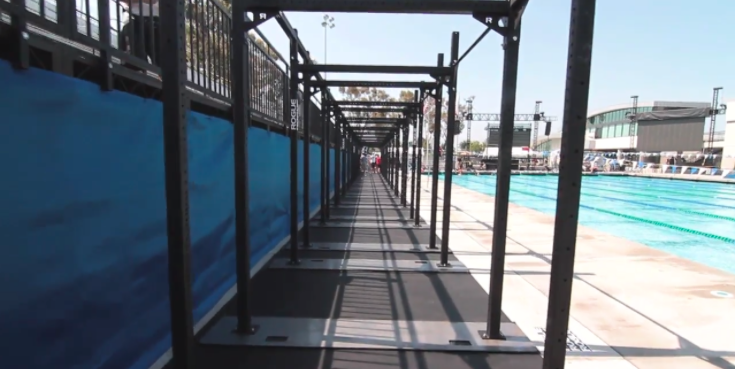 Just like last year, all individual athletes at the 2013 CrossFit Games begun their campaigns a few days earlier than scheduled, following the surprise announcement by Dave Castro that an additional day of competition was added to this year's comp.
On Wednesday July 24, two days before the multi-day competition was scheduled to begin, male and female competitors completed three workouts at two separate locations.
One was called 'The Pool', which consisted of 10 rounds of 25-yard swims and 3 bar muscle-ups, while the second and third Events were scored during a rowing half-marathon at the StubHub Center.
At the end of the first day of competition we saw some familiar faces at the top of the leaderboards, while a few new faces also made their mark.
Here is a closer look at both the male and female leaderboards after Day 1:
Men:
2008 Games champion Jason Khalipa is the man to catch after the first three workouts, sitting on top of leaderboard, 40 points clear of Garret Fisher. Khalipa dominated the last two Events, winning both rowing workouts after finishing 13th in the pool Event.
Australian, and ninth place finisher at the 2012 CrossFit Games, Chad Mackay, rounds out the top three, a further three points behind Fisher.
Reigning Games champ Rich Froning is sixth overall, 64 points behind Khalipa, while last year's runner-up Matt Chan is in 10th place overall.
Canadian Lucas Parker was further down the leaderboard, after struggling in all three Events to be back in 44th place overall.
Women:
After sitting out last year's competition with a knee injury, Samantha Briggs is off to flying start at the 2013 CrossFit Games, after winning Events 2 & 3. The Englishwoman is now 54 points ahead of Rory Zambard in second place, while Allesandra Pichelli rounds out the top three.
Lindsey Valenzuela is in fifth place overall, while last year's podium finisher Talayna Fortunato is eighth.
2010 Games champion Kristan Clever is much further down the leaderboard, sitting in 37th place, while Camille Leblanc Bazinet is only slightly better, in 28th spot.
Michelle Letendre won the opening Event at the pool, but slipped back to 16th place after the rowing workout.